Admit hero's
University of Washington

Admissions Profile

Keep reading to learn more about UW's admissions process, including extracurriculars, personal essays, and interviews. Maximize your application to UW Austin and schedule a free consultation with one of our counselors!
Introduction
Welcome to our comprehensive guide on the University of Washington (UW) admissions profile. If you're considering applying to UW, this article will provide you with all the essential information you need to know. From admission requirements to the application process, scholarships, and campus life, we've got you covered. Let's dive in and explore what makes UW such a prestigious institution.
UW Admissions Profile
The University of Washington, commonly known as UW, is a renowned public research university located in Seattle, Washington. Established in 1861, UW is known for its academic excellence, research contributions, and diverse student body. With a wide range of academic programs and a commitment to innovation, UW offers an exceptional educational experience.
Below are tables highlighting how University of Washington evaluates each applicant through information published in the Common Data Set, a resource that compiles a standardized list of data items provided by universities about their admissions profiles.
Relative importance of each of the following academic and nonacademic factors in your first-time, first-year, degree-seeking general (not including programs with specific criteria) admissions decisions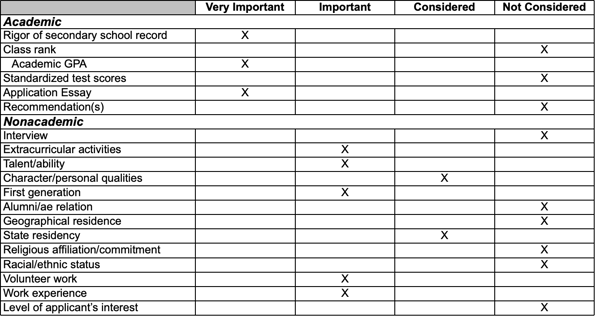 SAT and ACT Policies

Admissions Requirements
To gain admission to UW, applicants must meet certain requirements. Here are the key factors considered during the admissions process:
Academic Achievement: UW seeks students who have demonstrated academic excellence. Admissions officers review your high school coursework, grades, and class rank. They look for students who have challenged themselves academically and have excelled in their studies.

Standardized Test Scores: While UW takes a holistic approach to admissions, SAT or ACT scores play a role in the evaluation process. It's recommended that applicants aim for scores within or above the middle 50% range of admitted students. However, it's important to note that UW has implemented a test-optional policy for the 2022-2023 and 2023-2024 admissions cycles.

Personal Statement: UW requires applicants to submit a personal statement that provides insights into their character, experiences, and aspirations. This statement allows you to showcase your unique qualities, life experiences, and motivations for pursuing higher education.

Extracurricular Activities: UW values students who have actively engaged in extracurricular activities, such as community service, leadership roles, research projects, or artistic pursuits. Highlight your involvement and impact in these activities to demonstrate your multifaceted abilities.
The Application Process
Applying to UW involves several steps, and it's important to stay organized throughout the process. Let's walk through each stage of the application process:
1. Coalition Application or Common Application
UW accepts either the Coalition Application or the Common Application. Complete the application form accurately, including personal information, academic history, extracurricular involvement, and responses to the personal statement prompts. Pay attention to the specific requirements and prompts within the application.
2. Self-Reported Academic Record
UW requires applicants to self-report their high school coursework and grades. Ensure that you accurately enter this information in the application. Official transcripts will be required upon admission to verify the self-reported information.
3. University of Washington Supplemental Essays
When applying to the University of Washington, one critical component of your application package is the supplemental essays. These essays serve as a window into your personality, experiences, and aspirations, enabling the admissions committee to better understand you as an individual beyond your academic record and extracurricular activities.
As of the 2023-2024 admissions cycle, applicants to the University of Washington are required to submit two supplemental essays. Here are the prompts and their respective word counts:
Prompt #1: The University of Washington seeks students who can benefit from its wealth of academic and cultural opportunities, and contribute to the diverse fabric of its campus community. Describe an experience of cultural difference, positive or negative, you have had or observed. What did you learn from it? (300 words)

Prompt #2: Our families and communities often define us and our individual worlds. Community might refer to your cultural group, extended family, religious group, neighborhood or school, sports team or club, co-workers, etc. Describe the world you come from and how you, as a product of it, might add to the diversity of the University of Washington. (500 words)
Regarding the structure of these essays, they should be narrative in nature, engaging, and succinct. For Prompt #1, the admissions committee is interested in your ability to navigate and appreciate cultural differences, an essential trait in today's diverse and interconnected world. In the second prompt, the University is looking to understand more about your background, and how it has shaped your character and perspective. This is an opportunity to showcase your potential contribution to the campus community.
As a best practice, always make sure to proofread your essays multiple times, focusing on grammar, spelling, punctuation, and clarity of thought. It's also a good idea to have a mentor, teacher, or parent review your essays before submission to ensure they are polished and effectively communicate your message.
Remember, the supplemental essays are not just a formality but an opportunity to present a more complete picture of who you are. They are a platform for you to demonstrate your creativity, critical thinking, and commitment to the ethos of the University of Washington. Your authentic voice and individuality should shine through, as these qualities can often set your application apart in a highly competitive applicant pool.
Sample Essays
The following sample essays are from the 2022-2023 cycle. The prompts are slightly different but provide an excellent framework for what the University of Washington admissions team looks for in a star candidate.
Prompt: Our families and communities often define us and our individual worlds. Community might refer to your cultural group, extended family, religious group, neighborhood or school, sports team or club, co-workers, etc. Describe the world you come from and how you, as a product of it, might add to the diversity of the University of Washington.
Answer:
The first time I looked up the term cripplepunk I was in ninth grade, almost bedbound with severe hip pain. It took half a second for the page to load, and another half a second for me to process what I was seeing. There before me, against the muted grey of my phone's dark mode, is the community I thought I would never have. I could have scrolled for hours, absorbing the images of models in powerchairs wearing ornate gowns, snarky patches on guide dog vests, and decorated canes. I kept coming back to the page, enchanted with the movement. Although the term cripplepunk wasn't used until 2014, the spirit of the movement is present in most disabled people, from Frida Kahlo to the participants in the Capitol Crawl. The cripplepunk movement is intentionally subversive, fighting against the ableism and pity that disabled people encounter at every turn. Cripplepunks take a "so what if I am?" approach to ableism, refusing to be ashamed of symptoms, accommodations, or mobility aids. It's a diverse movement too, where a 60-something veteran dealing with decades-old injuries can guide me through the process of buying and decorating my first cane. In cripplepunk circles, a deafblind Black woman can teach the world that disabled people can have dreams for their futures. The cripplepunk movement is a movement where I can offer sympathy, advice, and support to the same people who helped me through otherwise isolating moments and new cripples alike. That work doesn't just happen online though. My work as a cripplepunk happens everywhere, classrooms and grocery stores alike, by being visibly and unashamedly disabled, vocally confronting ableists, and campaigning for greater accessibility.
Prompt: Consider two very different subjects you have previously studied; tell us how you imagine bringing those together at UW to engage with a pressing societal concern. This could be a local, national, or global concern.
Answer:
In my youth, my mother helped instill a curiosity about the natural world in me. Her work in consulting regarding climate change and environmental systems made me question my direct and indirect impact. I delved into these interests further in high school by taking broad coursework in the sciences. In AP Biology, I was baffled by the reactions and transformation that occurred with simple manipulation. In AP Environmental Science, I was able to apply these biological processes to environmental concepts I noticed on the daily.
In my junior year, I took AP Economics, a class on the polar opposite spectrum from biological and environmental sciences. However, while studying economics, I was able to establish connections between economic and environmental concepts. My father, who has a grounded education in economics, helped me understand the links between these seemingly disparate subjects. The subjects were foundationally interlinked; simple ideas coincided, such as the tragedy of the commons and its relation to marginal analysis.
As I noticed these intersectional ties, I saw that addressing the impending climate crisis through an economic lens was necessary for implementable, impactful change. There were opportunities for the government to impact climate action— these included economic incentives and regulations to influence the market price, changing producer and consumer behavior to be environmentally friendly. These policies helped protect the welfare of not only the environment but also of individuals who are disproportionately affected by the climate crisis.

My interest in communication studies links to this; I hope to thoroughly understand these subjects in an interdisciplinary context to provide the means for others to do the same.

At UW, particularly in the Interdisciplinary Honors Program, I hope to conjoin my interests in economic policy, science, and communications to gain the leverage and sound academic foundation necessary to address these concerns.
4. Letters of Recommendation
UW typically requires one or two letters of recommendation. Select individuals who know you well academically or personally and can speak to your abilities, character, and potential for success at the university. Follow the instructions provided on the application for submitting letters of recommendation.
5. Application Fee or Fee Waiver
There is an application fee to submit your application to UW. However, fee waivers are available for eligible students who demonstrate financial need. Review the fee waiver information on the UW admissions website for specific details and instructions.
6. Deadlines
Understanding the application deadlines for the University of Washington is critical to managing your application process effectively. The deadlines differ depending on the type of admission (Early Action, Regular Decision, or Transfer) and your student status (Freshman, Transfer, or International).
Early Action Admission
The Early Action option is ideal for students who consider the University of Washington as their top choice and wish to receive a decision earlier. The deadlines for Early Action Admission are as follows:
Application Opens: August 1
Application Deadline: November 15
Notification of Decision: By end of January
Regular Decision Admission
Regular Decision admission provides more time to complete the application. The deadlines for Regular Decision are:
Application Opens: August 1
Application Deadline: January 15
Notification of Decision: By end of March
Transfer Admission
For students seeking to transfer from other institutions, the application deadlines vary based on the term of enrollment:
Autumn Quarter: Application opens December 15 and closes February 15
Winter Quarter: Application opens March 15 and closes May 15
Spring Quarter: Application opens June 15 and closes August 15
International Students
International students are advised to apply within the same timeline as domestic students, either through Early Action or Regular Decision. The University recommends that international applicants apply as early as possible to allow ample time for visa processing.
It's essential to remember that all application materials, including transcripts, letters of recommendation, standardized test scores, and supplemental essays, must be submitted by the application deadline. Late submissions may not be considered.
Lastly, students applying for financial aid should also be aware of the Free Application for Federal Student Aid (FAFSA) deadlines. For the 2023-2024 academic year, the FAFSA can be filed as early as October 1, 2022, with a final deadline of June 30, 2024.
Keep these deadlines in mind as you plan your application to the University of Washington. Good organization and time management can ensure a smooth and less stressful admissions process.
Scholarships and Financial Aid
UW is committed to making education accessible and offers various scholarships and financial aid options to assist students. Here are a few examples:
Purple and Gold Scholarship: UW offers the Purple and Gold Scholarship, a merit-based scholarship for incoming freshmen. This scholarship recognizes academic achievement, leadership qualities, and contributions to the community. Recipients of the Purple and Gold Scholarship receive a renewable scholarship and additional benefits.

Husky Promise Program: UW's Husky Promise Program ensures that Washington state residents who are Pell Grant-eligible can attend UW tuition-free. The program covers the full cost of tuition and fees for eligible students.

Financial Aid Programs: UW provides various financial aid programs, including grants, work-study opportunities, and loans. By submitting the Free Application for Federal Student Aid (FAFSA) or the Washington Application for State Financial Aid (WASFA), students can be considered for these financial aid programs.
Campus Life and Resources
UW offers a vibrant campus life with a wide range of resources and opportunities for students to engage in. Here are some highlights:
Academic Excellence: UW is known for its academic rigor and offers over 180 undergraduate majors across various fields, including sciences, humanities, engineering, social sciences, business, and more. With distinguished faculty members and state-of-the-art facilities, students have the opportunity to engage in rigorous coursework and pursue their academic passions.

Research Opportunities: UW is a leading research institution, providing numerous research opportunities for undergraduate students. Through research programs, internships, and collaborations with faculty, students can engage in cutting-edge research and contribute to advancements in their fields of interest.

Student Organizations and Activities: UW offers a diverse range of student organizations and extracurricular activities. With over 1,000 registered student organizations, there are ample opportunities to explore your interests, develop leadership skills, and form meaningful connections with peers who share your passions.

Husky Athletics: UW's athletic program, known as the Huskies, competes in the NCAA Division I. Whether you're a participant or a fan, you can enjoy cheering on the teams in various sports, including football, basketball, soccer, and more.
Frequently Asked Questions
What is the acceptance rate at UW?

The acceptance rate for UW varies each year and depends on the applicant pool. It is generally competitive, with an average acceptance rate of around 46-48%.
Does UW offer honors programs?

Yes, UW offers several honors programs for academically talented students. These programs provide enhanced learning opportunities, smaller class sizes, and closer interaction with faculty members. Eligible students will receive information about honors program applications after admission to UW.
What resources are available for student support at UW?

UW offers a range of resources to support student success, including academic advising, tutoring services, counseling centers, health services, and campus libraries. The university is committed to providing a supportive environment for students to thrive academically and personally.
Conclusion
The University of Washington offers an exceptional educational experience with its academic excellence, research opportunities, and vibrant campus community. By understanding the UW admissions profile, you can approach the application process with confidence. Best of luck as you embark on this exciting journey towards an exceptional education at UW.