Admit hero's
University of Rochester Admissions Profile
Keep reading to learn more about Rochester's admissions process, including extracurriculars, personal essays, and interviews. Maximize your application to URochester and schedule a free consultation with one of our counselors!
Introduction
Welcome to our comprehensive guide on the University of Rochester admissions profile. If you're considering applying to the University of Rochester, this article will provide you with all the essential information you need to know. From admission requirements to the application process, scholarships, and campus life, we've got you covered. Let's dive in and explore what makes the University of Rochester such a prestigious institution.
University of Rochester Admissions Profile
The University of Rochester is a renowned private research university located in Rochester, New York. Established in 1850, the university is recognized for its academic excellence, innovative research, and a commitment to interdisciplinary education. With a vibrant campus community and a wide range of programs, the University of Rochester offers an exceptional educational experience.
Below are tables highlighting how University of Rochester evaluates each applicant through information published in the Common Data Set, a resource that compiles a standardized list of data items provided by universities about their admissions profiles.
Relative importance of each of the following academic and nonacademic factors in first time, first-year, degree-seeking (freshman) admission decisions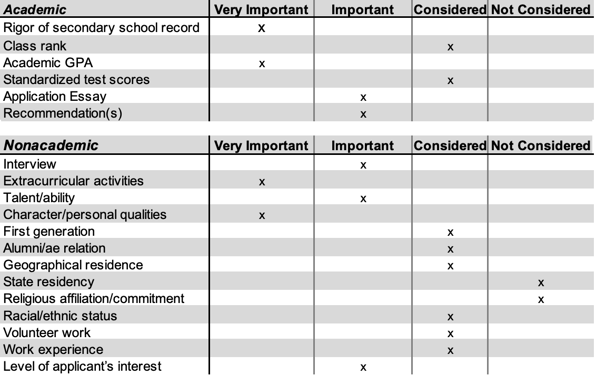 SAT and ACT Policies


Admissions Requirements
To gain admission to the University of Rochester, applicants must meet certain requirements. Here are the key factors considered during the admissions process:
Academic Excellence: The University of Rochester seeks students who have demonstrated academic excellence in a challenging high school curriculum. This includes strong grades, a competitive GPA, and a record of success in advanced or honors courses.

Standardized Test Scores: While the University of Rochester takes a holistic approach to admissions, strong SAT or ACT scores can enhance your application. It's recommended that applicants aim for scores within or above the middle 50% range of admitted students.

Transcripts and Coursework: Admissions officers review applicants' high school transcripts to assess their course selection, performance, and academic rigor. Taking advanced courses, such as Advanced Placement (AP) or International Baccalaureate (IB), can demonstrate your preparedness for the university-level curriculum.

Letters of Recommendation: The University of Rochester typically requires two letters of recommendation from teachers, counselors, or other individuals who can speak to your academic abilities, character, and potential for success at the university. Choose recommenders who know you well and can provide detailed insights into your strengths and achievements.
The Application Process
Applying to the University of Rochester involves several steps, and it's important to stay organized throughout the process. Let's walk through each stage of the application process:
1. Common Application or Coalition Application
The University of Rochester accepts both the Common Application and the Coalition Application. Choose the application platform that you are most comfortable with and complete the application form accurately, including personal information, academic history, and extracurricular involvement.
2. Supplemental Essays in University of Rochester's Admissions Process
As part of the application process, the University of Rochester requires applicants to complete supplemental essays. These essays provide an opportunity for applicants to showcase their unique qualities, experiences, and aspirations beyond what is captured in their general application. Let's explore the supplemental essays required by the University of Rochester:
Essay Prompt 1: Meliora - Ever Better
The University of Rochester embraces the motto "Meliora - Ever Better." Applicants are asked to respond to the following prompt with a maximum of 250 words: "How does the University of Rochester's motto, Meliora, reflect your aspirations for college and beyond?"
This prompt encourages applicants to reflect on their personal aspirations and connect them to the University of Rochester's core values. Applicants should articulate their desire for growth, improvement, and making a positive impact on the world. It is important to showcase a genuine understanding of the university's values and how they align with the applicant's own goals and aspirations.
Essay Prompt 2: Choose one of the following prompts (250 words maximum):
a) The University of Rochester benefits from a collaborative community of learners who challenge each other's perspectives. How do you anticipate utilizing the resources and experiences available at the University of Rochester to foster your own intellectual and personal growth?
b) Describe one of your quirks and why it is part of who you are.
c) "The only thing to fear is fear itself." How has this statement influenced you?
These prompts offer applicants the opportunity to share more about their unique qualities, perspectives, and experiences. Applicants should select the prompt that resonates with them the most and provide a well-crafted response that demonstrates self-reflection, critical thinking, and the ability to articulate ideas effectively.
Essay Prompt 3 (Optional): If you have written another essay that captures what you want the Admissions Committee to know about you, feel free to share it here. (250 words maximum)
This optional prompt allows applicants to submit an additional essay if they believe it will provide valuable insights into their background, accomplishments, or personal qualities that were not covered in the other application materials. It is important to use this opportunity wisely to further strengthen their application and showcase their unique attributes.
Applicants should approach these supplemental essays with authenticity, clarity, and thoughtfulness. It is important to utilize the word limit effectively and provide specific examples that highlight the applicant's unique experiences, perspectives, and fit with the University of Rochester's academic community. By doing so, applicants can strengthen their application and demonstrate their potential contributions to the University of Rochester's vibrant and intellectually stimulating environment.
Sample Essays
The University of Rochester has slightly tweaked their essay prompts for their 2023-2024 admissions cycle. However, the sample essays do a fantastic job summarizing what they look for in an outstanding candidate.
Prompt: The University of Rochester benefactor, entrepreneur, photography pioneer and philanthropist George Eastman said, "The progress of the world depends almost entirely upon education." With that statement in mind, how will you use your University of Rochester experience to foster positive change in order to make the world, your community and those around you "ever better?"
Answer:
On a Tuesday morning, I learned I had a brand new cousin; he was born prematurely, but my aunt said she could already tell he looked like me. I, who has no siblings, was happier than words could describe. However, my cousin died a few days later, and no matter how thickly my parents painted the situation in fate and divine will, I knew he needn't have died.
The incubator lost power overnight, and the generator could not be turned on for some reason. My two-day-old cousin battled hard for his life, living longer than he should have, but still dying. Indeed, it was the most traumatizing news I had ever received, but it was also my inspiration to engineer a better healthcare system for my country.
With Professor Jonathan Ellis – at the world-class mechanical engineering program at Hajim – and from hands-on work at Rochester's School of Medicine and Dentistry, I can learn to design hospital equipment that produce their energy. I look at Rochester's Solar Splash and their design of the solar-powered boat (which I intend to be a part of), and I see hope in the clean and constant energy of the sun which can be harnessed to power incubators and theatrical equipment and subsequently reduce the frequency of unfortunate hospital fatalities.
Indeed, I look forward to being a part of the Rochester experience, as I see it as a catalyst towards my goal of making myself, my community, and my country's healthcare system ever better.
Prompt: The University of Rochester motto of Meliora – or "ever better" - deeply integrates critical core values into all that we do. These core values of equity, leadership, integrity, openness, respect and accountability define not only who we are, but also who we hope to become. Please use the space below to highlight a time, creative idea or research experience when you put into action one or more of these characteristics in order to make yourself, your community or the world ever better.
Answer:
Inspired to reduce the hardships the Deaf community faces during emergencies, I applied my knowledge of American Sign Language (ASL) to create the Emergency Medical Sign Language booklet with my sister. I incorporated simple medical phrases in 5 sign languages around the world in hopes of mitigating the communication gap between Deaf immigrants and hearing medical professionals. Recognizing how crucial clear communication is to the Deaf community, especially during medical emergencies, I partnered with DeafCAN!, a nonprofit that works closely with Deaf immigrants. After 6 months of diligent work, we distributed over 650 booklets to various health centers.

Through this project, I was able to engage and give back to my community, and I'm eager to join those who share the same passionate drive to serve others at the University of Rochester. I'm thrilled to see that the UR Campus-Community Bridge program offers countless service opportunities. I'll undoubtedly continue giving back to my new community through numerous organizations, from the Refugee Student Alliance to Special Olympics to Health Education and Advocacy Leaders (HEAL). At UR, I would be able to bring health information and resources to the low-income population through HEAL. Just as HEAL strategically allocated the Community Engagement Challenge fund to provide free blood pressure readings, I'm eager to take full advantage of UR's grants to expand my booklet's impact to Rochester's large Deaf community. At UR, I'm excited to work alongside passionate students like myself to continue using my knowledge and resources to make a positive difference.
Prompt: American social reformer, abolitionist, writer and statesman Frederick Douglass said, "Some know the value of education by having it. I knew its value by not having it." Explain ways in which education has directly influenced you and your ability to do good in the world. How will you use the curricular flexibility and co-curricular opportunities of the University of Rochester experience to grow and to promote positive change for yourself, your community and the world?
Answer:
As someone who fell in love with programming at nine years old, I believe that technology is good for society. But technology's rapid growth has created staggering risks to privacy and security—risks I want to study, understand, and solve.
Studying Computer Science at The University of Rochester would prepare me for this challenge. I want to grow from finding computer vulnerabilities and developing security software to tackling Rochester's advanced algorithms and cryptography courses.
I learn through iteration and persistence, and research has played an important part in my high school education. At Rochester, I would pursue research on applying artificial intelligence to information security and aspire to work on cryptography in the CS Theory lab. My goal is to graduate with the ability to create innovative ways to protect society's data.
Solving technical problems is not enough, however. Developers like me need to predict how technology will be exploited. We need to become social scientists, not just computer scientists. I would use Rochester's flexible curriculum to study psychology for insight on human behavior, and pursue the unique "Ethics in Technology" cluster and the Social Implications of Computing class.
I love sharing my passion for computer science. I teach advanced CS at a summer camp and mentor younger members of my robotics team. I look forward to continuing this at Rochester, where I would organize a group of my classmates and start a free Python course for middle-school students in Rochester.
3. Standardized Test Scores
The University of Rochester operates under a test-optional policy for undergraduate applicants. This means that submitting SAT or ACT scores is optional. However, strong test scores can still be beneficial for certain scholarships or specialized programs. Review the specific requirements for your desired major or program before deciding whether to submit scores.
4. Application Fee or Fee Waiver
There is an application fee to submit your application to the University of Rochester. However, fee waivers are available for eligible students who demonstrate financial need. Check the university's admissions website for specific details and instructions on obtaining a fee waiver.
5. Deadlines
When applying to the University of Rochester (UR), it is important to be aware of the specific application deadlines. UR offers different application plans, including Early Decision, Regular Decision, and Transfer Admission. Understanding these deadlines will help prospective students plan their application timeline effectively.
Early Decision (ED)
UR offers an Early Decision program that is binding, meaning that if admitted, students are committed to enrolling at UR. The Early Decision deadline is typically in early November, and applicants will receive their admission decision by mid-December. Early Decision is an option for students who have identified UR as their top-choice institution and are ready to commit to attending if admitted.
Regular Decision (RD)
The Regular Decision deadline for UR is typically in early January. By applying Regular Decision, students have more time to prepare their application materials and explore their options before making a final decision. Admission decisions for Regular Decision applicants are usually released by late March or early April.
Transfer Admission
For students seeking to transfer to UR, the application deadline is typically in early March. Transfer students are required to submit their applications and supporting materials by this deadline to be considered for admission.
It is crucial to note that UR has a holistic admissions process, which means that they consider various factors beyond academic achievements, such as extracurricular involvement, leadership experiences, essays, and letters of recommendation. Prospective students should ensure that all application materials are submitted by the specified deadlines to ensure a complete and timely application.
In addition to the general application deadlines, it is important to check if there are specific deadlines for other programs or scholarships that students may be interested in.
By understanding and adhering to these deadlines, prospective students can strategically plan their application timeline, ensuring they have enough time to present their best selves in the UR admissions process. Meeting the application deadlines increases the chances of being considered for admission to the University of Rochester, a renowned institution known for its academic excellence, research opportunities, and diverse community.
Scholarships and Financial Aid
The University of Rochester is committed to making education affordable and offers various scholarships and financial aid options to assist students. Here are a few examples:
Merit-Based Scholarships: The University of Rochester awards merit-based scholarships to incoming students who demonstrate exceptional academic achievements, leadership qualities, artistic talents, or other outstanding accomplishments. These scholarships are competitive and are awarded based on the overall strength of the applicant pool.

Need-Based Financial Aid: The University of Rochester provides need-based financial aid to eligible students. By submitting the Free Application for Federal Student Aid (FAFSA) and the CSS Profile, students can be considered for grants, loans, work-study programs, and other forms of financial assistance.

Specialized Scholarships: The University of Rochester offers specialized scholarships for students pursuing specific fields of study, such as engineering, music, or entrepreneurship. These scholarships often require separate applications and may have specific eligibility criteria.
Campus Life and Resources
The University of Rochester offers a vibrant campus life with a variety of resources and opportunities for students to engage in. Here are some highlights:
Academic Excellence: The University of Rochester is renowned for its academic programs and research opportunities. With over 200 majors and minors across various disciplines, students have the flexibility to explore their interests and pursue interdisciplinary studies.

Student Organizations and Activities: The University of Rochester boasts a wide range of student organizations, clubs, and extracurricular activities. Whether you're interested in academic clubs, performing arts, community service, or sports, there are numerous opportunities to get involved and connect with like-minded peers.

Research and Internship Opportunities: The University of Rochester encourages undergraduate students to engage in research and experiential learning opportunities. Students have access to world-class research facilities and can collaborate with faculty members on groundbreaking projects.

Career Services: The University of Rochester's Career Center provides comprehensive resources and support for students' career development. From internships and co-op programs to job fairs and networking events, students have access to a range of services to prepare for their future careers.
Frequently Asked Questions
What is the acceptance rate at the University of Rochester?

The acceptance rate for the University of Rochester varies each year and depends on the applicant pool. It is generally competitive, with an average acceptance rate of around 30%.
Are interviews required for admission to the University of Rochester?

The University of Rochester does not typically require interviews for undergraduate applicants. Admissions decisions are primarily based on the application materials submitted.
What majors and programs are offered at the University of Rochester?

The University of Rochester offers a wide range of undergraduate majors and programs in areas such as arts, humanities, social sciences, natural sciences, engineering, business, and healthcare.
Conclusion
The University of Rochester offers a transformative educational experience and a supportive community that encourages students to explore their passions and reach their full potential. By understanding the University of Rochester admissions profile, you can navigate the application process with confidence. Best of luck as you embark on this exciting journey toward a future filled with academic excellence and personal growth!