Admit hero's
University of Michigan Admissions Profile
Keep reading to learn more about UMich's admissions process, including extracurriculars, personal essays, and interviews. Maximize your application to UMisch and schedule a free consultation with one of our counselors!
Introduction
The University of Michigan, located in Ann Arbor, is a prestigious institution renowned for its academic excellence, vibrant campus life, and rich history of innovation and discovery. Aspiring students from around the world aspire to join the University of Michigan community and immerse themselves in a transformative educational experience. In this comprehensive article, we delve into the University of Michigan admissions profile, shedding light on the key factors that shape the application process, the qualities Michigan seeks in its applicants, and valuable insights for prospective students. If you're ready to embark on a journey of intellectual growth, personal development, and societal impact, read on to uncover the secrets behind Michigan's admissions process.
University of Michigan Admissions Profile
The University of Michigan has a highly competitive admissions process that considers various aspects of an applicant's profile. Understanding the University of Michigan admissions profile is crucial for prospective students aiming to secure a place at this esteemed institution. Let's explore the essential components of the University of Michigan admissions profile to gain valuable insights into the application process.
Below are tables highlighting how UMich evaluates each applicant through information published in the Common Data Set, a resource that compiles a standardized list of data items provided by universities about their admissions profiles.
Distribution of high school units required and/or recommended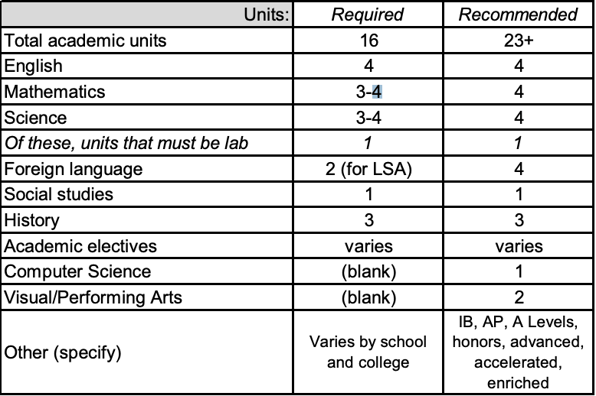 Relative importance of each of the following academic and nonacademic factors in first-time, first-year, degree-seeking admission decisions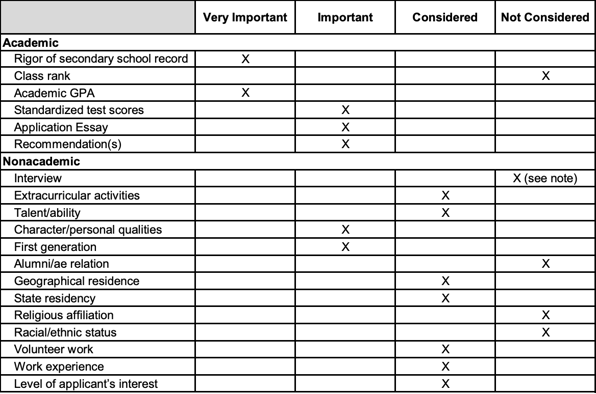 SAT and ACT Policies


Academic Excellence: A Strong Foundation
The University of Michigan places significant emphasis on academic excellence. The admissions committee evaluates an applicant's high school academic record, including course selection, grades achieved, and overall GPA. Michigan seeks students who have excelled in challenging coursework, demonstrated intellectual curiosity, and shown a passion for learning. Strong performance in core subjects, particularly in areas aligned with the applicant's intended field of study, can positively impact their candidacy.
Standardized Test Scores: Demonstrating Aptitude
Standardized test scores, such as the SAT or ACT, play a role in the evaluation process at the University of Michigan. While the university takes a holistic approach to admissions, strong performance in standardized tests can enhance an applicant's profile. High scores in critical reading, writing, math, and relevant subject tests can demonstrate an applicant's academic abilities and potential for success at Michigan.
Personal Statements: Sharing Personal Narratives
The personal statements provide applicants with an opportunity to showcase their unique perspectives, experiences, and aspirations. Michigan values authentic and compelling responses that reflect an applicant's voice, personal growth, and potential contributions to the Michigan community. Through the personal statements, applicants can convey their motivations, goals, and their alignment with Michigan's values and mission. Well-crafted essays that demonstrate critical thinking, effective communication, and self-reflection can significantly strengthen an applicant's candidacy.
Supplemental Essays in the University of Michigan's Admissions Process
As part of the application process, the University of Michigan (UMich) requires applicants to complete supplemental essays. These essays provide an opportunity for applicants to showcase their unique qualities, experiences, and aspirations beyond what is captured in their general application. Let's explore the supplemental essays required by UMich:
Essay Prompt 1: Everyone belongs to many different communities and/or groups defined by (among other things) shared geography, religion, ethnicity, income, cuisine, interest, race, ideology, or intellectual heritage. Choose one of the communities to which you belong, and describe that community and your place within it. (300 words maximum)
This prompt encourages applicants to reflect on the communities or groups they belong to and discuss their place within one of these communities. It can be a community defined by various aspects such as geography, religion, ethnicity, or intellectual interests. Applicants should provide a thoughtful and personal account of their experiences, contributions, and connections within the chosen community.
Essay Prompt 2: Describe the unique qualities that attract you to the specific undergraduate College or School (including preferred admission and dual degree programs) to which you are applying at the University of Michigan. How would that curriculum support your interests? (550 words maximum)
This prompt asks applicants to delve into the specific College or School they are applying to within UMich and explain why they are attracted to it. Applicants should demonstrate their knowledge of the curriculum, resources, faculty, and opportunities offered by the chosen College or School. It is essential to articulate how the curriculum aligns with their interests, academic goals, and future aspirations.
Essay Prompt 3 (Optional): If you could only do one of the activities you have listed in the Activities section of your Common Application, which one would you keep doing? Why? (150 words maximum)
This optional prompt allows applicants to focus on one particular activity they have listed in their Common Application activities section. Applicants should choose the activity that has had the most significant impact on them and explain why they would continue engaging in it if they had to choose only one. This prompt provides insight into the applicant's passions, commitment, and personal growth.
Applicants should approach these supplemental essays with sincerity, thoughtfulness, and clarity. It is important to utilize the word limit effectively and provide specific examples that highlight the applicant's unique experiences, perspectives, and fit with UMich's community. By doing so, applicants can strengthen their application and demonstrate their potential contributions to the vibrant University of Michigan community.
Sample Essays
Prompt #1:
When I joined the Huntsville Youth Commission, a group of students chosen to represent youth interests within the local government, I met Jack. Jack told me his cousin's body had been stuffed into the trunk of a car after he was killed by a gang. After that, my notion of normal would never be the same.

A melting pot of ideologies, skins, socio-economic classes, faiths, and educations, the HYC is a unique collaborative enterprise. Each member adds to our community's network of stories, that weave, bump, and diverge in unexpected ways. Jack talked about his cousin's broken body, Witnessa educated us about "food deserts," supervisor Evelyn Scott explained that girls get ten-day school suspensions for simply stepping on another student's sneakers, and I shared how my family's blending of Jewish tradition and Chinese culture bridges disparate worlds. As a person who was born in Tokyo, lived in London, and grew up in the South, I realize difference doesn't have to be an obstacle to understanding. My ability to listen empathetically helped us envision multifaceted solutions to issues facing 21st-century youth.

My experience in this space of affirmation and engagement has made me a more thoughtful person and listener. I want to continue this effort and be the woman who both expands perspectives and takes action after hearing people's stories. Reconciling disparate lifestyles and backgrounds in the Commission has prepared me to become a compassionate leader, eager to both expand perspectives and take collaborative action.
Prompt #2:
J.R.R. Tolkien introduced us to Middle Earth. George R.R. Martin invited us to King's Landing. J.K. Rowling enrolled us in Hogwarts. In order to craft fantasy worlds that resonate with the widest audiences, the best writers combine their formal education with personal experience and distinct interests. Creatives must draw inspiration by integrating the depths of their psyche with their environment and, by studying creative writing and Asian studies, I believe the University of Michigan will provide me with opportunities to develop a strong minority voice in the predominantly Caucasian world of young adult fiction.

Through the Residential Colleges, I hope to be a part of a living-learning community that emphasizes critical thinking and creative expression while immersing myself in the development process. The ability to work one-on-one with an RC Professor and receive personalized instruction is invaluable, as it will give me the unique opportunity to address my weaknesses and improve my strengths. And a fiction writer cannot mold young minds to connect deeply and read critically complex works of art without having done so herself, so I am looking forward to First-Year Seminars such as "Topics in the Science of Creativity" and "Saving the World with a Story: Writers' Voices of Conscience in Fiction," as these will help me to analyze my writing on both a microscopic and macroscopic level.

The Center of Japanese Studies and the Department of Asian Languages and Cultures will enable me to deepen my understanding of Japanese culture in the classroom and apply my knowledge by studying abroad in Japan. The Residential College intensive language program will help me develop Japanese proficiency, allowing me to take full advantage of overseas study in Kyoto. Courses like Early East Asian Transformations, First-Year Japanese through Anime and Manga, and Spirits of Contemporary Japan will teach me to analyze spirituality, existentialism, and society in the context of classical and contemporary Japan. This can ultimately serve as a thematic basis for my writing. I can see myself attending live action and anime screenings on campus with club Animania and participating in cultural initiatives by the Japan Students Association.

Although writing and Asian Studies are my passions, I look forward to attending a large school with diverse opportunities and want to remain open to post-graduate careers in either business or law. As my sister and I have started a nonprofit, I may want to explore organizational studies. I also want to contribute to the UM community by becoming a Sweetland writing consultant and a creative writing intern at Ypsilanti District Libraries with 826Michigan.

Over the course of my interactions with Brittany Simmons and Logan Corey and after much research, I have come to see that what UM has to offer aligns with so many of my interests and core values. (No other school I know of offered courses in 2015 exploring my literary heroes Miyazaki and Murakami.) In short, Michigan has become a top choice for me and, if I am able to afford it financially, I would love to attend.
Demonstrated Leadership and Impact: Making a Difference
Michigan values applicants who have demonstrated leadership potential and a commitment to their communities. Engagement in extracurricular activities, community service, sports, clubs, or initiatives that showcase leadership, teamwork, and community impact can positively influence an applicant's profile. Michigan seeks individuals who have made meaningful contributions, shown resilience, and have the potential to make a positive impact on campus and beyond.
Letters of Recommendation: Testimonials of Excellence
Letters of recommendation offer valuable insights into an applicant's character, abilities, and potential for success. Michigan typically requires two letters of recommendation, often from teachers, mentors, or counselors who can speak to an applicant's academic achievements, personal qualities, and potential contributions to the university community. Selecting recommenders who know the applicant well and can provide specific examples of their strengths is crucial.
University of Michigan Application Deadlines
When applying to the University of Michigan (UMich), it is important to keep track of the specific application deadlines. UMich offers two application plans: Early Action and Regular Decision. Understanding these deadlines will help prospective students plan their application timeline effectively.
Early Action
UMich's Early Action program is non-binding, allowing applicants to receive an early admission decision without being obligated to enroll. The Early Action deadline is typically November 1. Applicants will receive their admission decision by late December. Early Action provides students with the advantage of an early notification, which allows them more time to consider their options and make an informed decision.
Regular Decision
The Regular Decision application deadline for UMich is typically February 1. By applying Regular Decision, students have more time to finalize their application materials and submit any additional achievements or updates from the first semester of their senior year. Admission decisions for Regular Decision applicants are usually released in late March.
Financial Aid Application
For students seeking financial aid, UMich requires the submission of the Free Application for Federal Student Aid (FAFSA) and the CSS Profile. The financial aid application deadline aligns with the respective application plan: November 1 for Early Action and February 1 for Regular Decision.
It is crucial to submit all application materials, including test scores, transcripts, recommendation letters, and essays, by the specified deadlines. Late applications are generally not accepted, so it is important to plan ahead and allocate enough time to gather all required documents.
By understanding and adhering to these deadlines, prospective students can strategically plan their application timeline, ensuring they have enough time to present their best selves in the UMich admissions process. Meeting the application deadlines increases the chances of being considered for admission to the University of Michigan, a renowned institution known for its academic excellence and vibrant campus community.
Frequently Asked Questions
What is the acceptance rate at UMich?

The acceptance rate at the University of Michigan is typically around 20-25%, making it a highly competitive institution.
Does UMich require interviews for all applicants?

No, the University of Michigan does not require interviews for all applicants. Interviews are typically conducted on an invitation-only basis.
Does UMich consider demonstrated interest in admissions decisions?

The University of Michigan takes a holistic approach to admissions and does not formally track demonstrated interest. Admissions decisions are primarily based on an applicant's qualifications, achievements, and fit with the university's academic community.
Conclusion
Securing admission to the University of Michigan requires a combination of academic excellence, intellectual curiosity, leadership potential, and a commitment to making a positive impact. By understanding the various components of the University of Michigan admissions profile and showcasing your unique strengths, you can increase your chances of joining the esteemed Michigan community. So, dream big, pursue your passions, and let your potential shine as you embark on an exciting educational journey at the University of Michigan.