Admit hero's
University of Illinois at Urbana-Champaign

Admissions Profile

Keep reading to learn more about UIUC's admissions process, including extracurriculars, personal essays, and interviews. Maximize your application to UIUC and schedule a free consultation with one of our counselors!
Introduction
Welcome to our comprehensive guide on the University of Illinois at Urbana-Champaign (UIUC) admissions profile. If you're considering applying to UIUC, this article will provide you with all the essential information you need to know. From admission requirements to the application process, scholarships, and campus life, we've got you covered. Let's dive in and explore what makes UIUC such a prestigious institution.
UIUC Admissions Profile
The University of Illinois at Urbana-Champaign, often referred to as UIUC or simply Illinois, is a renowned public research university located in Urbana and Champaign, Illinois. Founded in 1867, UIUC is known for its academic excellence, cutting-edge research, and vibrant campus community. With a diverse range of academic programs and a commitment to innovation, UIUC offers an exceptional educational experience.
Below are tables highlighting how UIUC evaluates each applicant through information published in the Common Data Set, a resource that compiles a standardized list of data items provided by universities about their admissions profiles.
SAT and ACT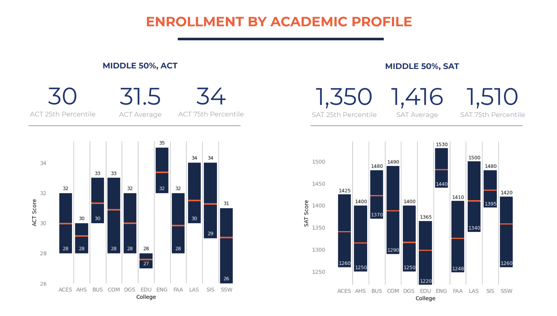 GPA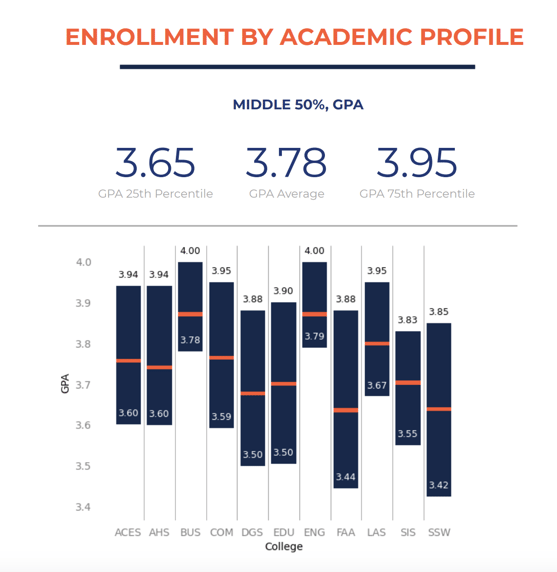 Admissions Requirements
To gain admission to UIUC, applicants must meet certain requirements. Here are the key factors considered during the admissions process:
Academic Achievement: UIUC seeks students who have demonstrated academic excellence. Admissions officers review your high school coursework, grades, and class rank. They look for students who have challenged themselves academically and have excelled in their studies.

Standardized Test Scores: While UIUC takes a holistic approach to admissions, SAT or ACT scores play a role in the evaluation process. It's recommended that applicants aim for scores within or above the middle 50% range of admitted students. However, it's important to note that UIUC has implemented a test-optional policy for the 2022-2023 and 2023-2024 admissions cycles.

Essays and Personal Statements: UIUC requires applicants to submit essays and personal statements that provide insights into their character, experiences, and aspirations. These essays offer an opportunity to showcase your unique qualities, demonstrate your writing skills, and highlight your fit with UIUC.

Letters of Recommendation: UIUC typically requires one or two letters of recommendation from teachers, counselors, or other individuals who can speak to your academic abilities, character, and potential for success at the university. Choose recommenders who know you well and can provide specific examples of your achievements and qualities.
The Application Process
Applying to UIUC involves several steps, and it's important to stay organized throughout the process. Let's walk through each stage of the application process:
1. The Common Application
UIUC accepts the Common Application. Complete the application form accurately, including personal information, academic history, and extracurricular involvement. Pay attention to the specific requirements and prompts for UIUC within the Common Application.
2. Supplemental Essays
As part of its comprehensive admissions procedure, the University of Illinois at Urbana-Champaign (UIUC) incorporates supplemental essays. These essays offer applicants a platform to express their individuality, elaborate on their academic interests, and illustrate how they would contribute to the UIUC community.
UIUC's application usually consists of one primary essay that is required of all applicants. Depending on the intended program of study, there may be additional essays required. These supplemental essays aim to understand the applicant's intellectual curiosity, career goals, and why they've chosen their specific field of study.
The main essay prompt invites applicants to share how their academic interests developed and describe any related work or volunteer experiences. It also asks applicants to elaborate on why they have chosen the University of Illinois at Urbana-Champaign for their studies and how they believe the university will support their educational goals. This essay allows applicants to showcase their understanding of their chosen academic path and UIUC's unique offerings in that area.
To respond effectively, applicants should demonstrate knowledge of UIUC's programs and resources that relate to their chosen major. They should discuss relevant academic experiences and extracurricular activities, highlighting how these experiences have prepared them for their academic journey at UIUC.
Some programs at UIUC may require additional essays specific to the major. These essays offer an opportunity to provide more detailed insight into an applicant's interest in and understanding of the particular field. The prompts typically revolve around the applicant's future aspirations in the field, how they foresee their studies at UIUC furthering those goals, or specific experiences that have sparked their interest in the area.
When writing the supplemental essays, it's essential for applicants to be thoughtful, focused, and genuine. The essays should not only exhibit a clear understanding of the subject matter but also offer a glimpse into the applicant's unique experiences and aspirations. Ultimately, the most compelling essays are those that effectively communicate the applicant's enthusiasm for their chosen field and their potential fit within the UIUC community.
Essay Samples
Prompt: Explain, in detail, an experience you've had in the past 3 to 4 years related to your first-choice major. This can be an experience from an extracurricular activity, in a class you've taken, or through something else.
Answer: I played the triangle for four years in my high school band, and through that was exposed to genres of music I would've otherwise never heard. Playing the triangle was fulfilling, but I wanted to create a space specifically for listening to music. During my sophomore year, I formed a club for music listeners called "Hear There Everywhere" and have served as the president ever since. As president, I organized meetings, held outreach events to engage new members, and implemented a Playlist Friday program, where teachers play personalized playlists created by the club on Friday afternoons. I've always had a passion for listening to music and "Hear There Everywhere" has given me a platform to share the benefits with others. From my experiences in high school, I know the Music Listening major at UIUC is the perfect fit for me.
Prompt: Describe your personal and/or career goals after graduating from UIUC and how your selected first-choice major will help you achieve them.

Answer: Listening to music has been a passion of mine since I was very young, and I want to share that passion with others. Through the Music Listening major, I hope to build a foundation of knowledge that will support me as I pursue a career as a professional music listener. As a professional listener, I want to become a strong voice within the field that not only pushes the boundaries of what types of music are listened to, but also advocates for the inclusion of listening as an important part of the music industry. Listening is a severely underrepresented piece of the music community, and my main career goal is to bring more recognition to music listeners everywhere. Not many Music Listening programs exist, so by taking part in this major I hope to establish my voice in the movement of change sweeping the music industry.
3. Letters of Recommendation
UIUC typically requires one or two letters of recommendation. Select individuals who know you well academically and can speak to your abilities, character, and potential for success at the university. Follow the instructions provided on the application for submitting letters of recommendation.
4. Application Fee or Fee Waiver
There is an application fee to submit your application to UIUC. However, fee waivers are available for eligible students who demonstrate financial need. Review the fee waiver information on the UIUC admissions website for specific details and instructions.
5. Deadlines
Timely submission of applications is a crucial component of the admissions process at the University of Illinois at Urbana-Champaign (UIUC). Being aware of and adhering to these deadlines is important as late submissions could result in disqualification from the admissions process.
UIUC offers two primary application options for first-year students: Early Action and Regular Decision. Transfer students and international students also have specific deadlines to follow. Below are the details of each application deadline:
Early Action (EA): For students who have identified UIUC as a top choice and wish to hear back sooner, the Early Action option is the best fit. The deadline for Early Action applications is November 1. Applicants can expect to receive their admissions decisions by mid-February. Although the Early Action program is non-binding, applicants are strongly encouraged to complete their applications by this date for best consideration for admission into limited programs.

Regular Decision (RD): If you need more time to complete your application, the Regular Decision deadline provides some additional flexibility. The Regular Decision application deadline at UIUC is January 5. Admissions decisions for Regular Decision applicants are typically released by mid-March. Admitted students then have until May 1 to accept or decline the offer of admission.
For transfer students, the application deadlines are typically in early October for Spring admission and in early March for Fall admission.
International students should adhere to the same deadlines as domestic students for both the Early Action and Regular Decision cycles, but they are advised to apply as early as possible to allow extra time for visa processing.
In addition to these deadlines, prospective students should also note the deadlines for financial aid applications and housing applications, which are often separate from the admissions application deadline.
For the most accurate and up-to-date information, it's best to refer to the official UIUC admissions website. Keeping track of these dates and ensuring all parts of your application are submitted on time is a vital part of a successful application to the University of Illinois at Urbana-Champaign.
Scholarships and Financial Aid
UIUC is committed to making education accessible and offers various scholarships and financial aid options to assist students. Here are a few examples:
Merit-Based Scholarships: UIUC offers a range of merit-based scholarships to incoming students. These scholarships are awarded based on academic achievements, leadership qualities, or other outstanding accomplishments. The Office of Student Financial Aid can provide more information on available scholarships.

Need-Based Financial Aid: UIUC provides need-based financial aid to eligible students. By submitting the Free Application for Federal Student Aid (FAFSA) and the CSS Profile, students can be considered for grants, loans, work-study programs, and other forms of financial assistance.

Illinois Commitment: UIUC offers the Illinois Commitment program, which ensures that in-state students from families with an income of $67,100 or less receive full tuition and fee waivers. This program aims to make UIUC accessible and affordable for Illinois residents.
Campus Life and Resources
UIUC offers a vibrant campus life with a wide range of resources and opportunities for students to engage in. Here are some highlights:
Academic Excellence: UIUC is known for its academic rigor and offers over 150 undergraduate programs across various fields, including engineering, business, liberal arts, and sciences. With world-class faculty and state-of-the-art facilities, students have the opportunity to engage in rigorous coursework and pursue their academic passions.

Research Opportunities: UIUC is a leading research institution, providing numerous research opportunities for undergraduate students. Through research programs, internships, and collaborations with faculty, students can engage in cutting-edge research and contribute to advancements in their fields of interest.

Student Organizations and Activities: UIUC offers a diverse range of student organizations and extracurricular activities. With over 1,000 registered student organizations, there are ample opportunities to explore your interests, develop leadership skills, and form meaningful connections with peers who share your passions.

Career Services: UIUC's Career Services offers comprehensive resources and support to help students explore career paths, secure internships, and prepare for the job search. From career advising to resume reviews and networking events, Career Services equips students with the tools and guidance needed to succeed in their professional endeavors.
Frequently Asked Questions
What is the acceptance rate at UIUC?

The acceptance rate for UIUC varies each year and depends on the applicant pool. It is generally competitive, with an average acceptance rate of around 60-65%.
Does UIUC offer study abroad programs?

Yes, UIUC offers a variety of study abroad programs that allow students to explore different cultures, gain global perspectives, and enhance their academic studies. The Study Abroad Office can provide more information on available programs and application processes.
What resources are available for student support at UIUC?

UIUC offers a range of resources to support student success, including academic advising, tutoring services, counseling centers, health services, and campus libraries. The university is committed to providing a supportive environment for students to thrive academically and personally.
Conclusion
The University of Illinois at Urbana-Champaign offers an exceptional educational experience with its academic excellence, research opportunities, and vibrant campus community. By understanding the UIUC admissions profile, you can approach the application process with confidence. Best of luck as you embark on this exciting journey towards an exceptional education at UIUC.