Admit hero's
University of California, Santa Barbara (UCSB) Admissions Profile
Keep reading to learn more about UCSB's admissions process, including extracurriculars, personal essays, and interviews. Maximize your application to UCSB and schedule a free consultation with one of our counselors!
Introduction
Welcome to our comprehensive guide on the University of California, Santa Barbara (UCSB) admissions profile. If you're considering applying to UCSB, this article will provide you with all the essential information you need to know. From admission requirements to the application process, scholarships, and campus life, we've got you covered. Let's dive in and explore what makes UCSB such a remarkable institution.
UCSB Admissions Profile
The University of California, Santa Barbara (UCSB) is a renowned public research university located in Santa Barbara, California. Established in 1909, UCSB is recognized for its academic excellence, vibrant campus community, and commitment to interdisciplinary education. With its stunning coastal location and world-class faculty, UCSB offers a truly exceptional educational experience.
Below are tables highlighting how UCSB evaluates each applicant through information published in the Common Data Set, a resource that compiles a standardized list of data items provided by universities about their admissions profiles.
Distribution of high school units required and/or recommended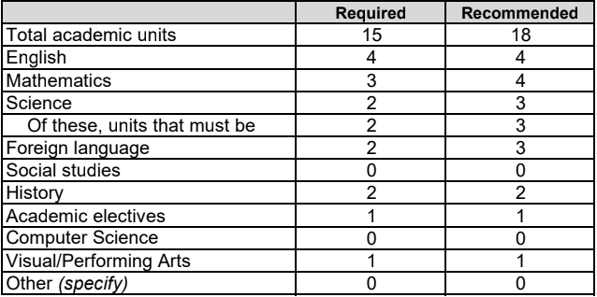 Relative importance of each of the following academic and nonacademic factors in your first-time, first-year, degree-seeking general (not including programs with specific criteria) admissions decisions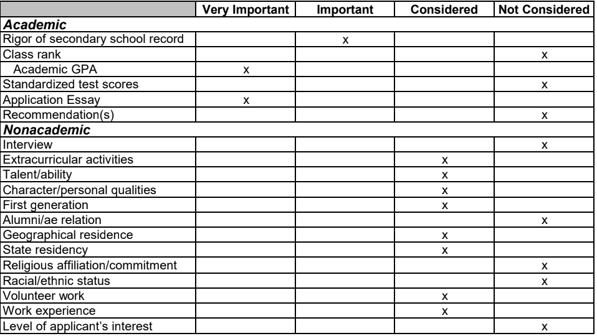 Admissions Requirements
To gain admission to UCSB, applicants must meet certain requirements. Here are the key factors considered during the admissions process:
Academic Excellence: UCSB seeks students who have demonstrated academic excellence. This includes a rigorous high school curriculum, strong grades, and a competitive GPA. Taking challenging courses, such as Advanced Placement (AP) or International Baccalaureate (IB), can enhance your application.

Test Scores: While UCSB takes a holistic approach to admissions, SAT or ACT scores play a significant role. It's recommended that applicants aim for scores within or above the middle 50% range of admitted students.

Transcripts and Coursework: Admissions officers review applicants' high school transcripts to assess their course selection, performance, and academic rigor. They also consider the specific courses related to the applicant's intended major or area of interest.

Personal Insight Questions: UCSB requires applicants to respond to four personal insight questions that provide an opportunity to showcase their unique experiences, personal qualities, and aspirations. Craft thoughtful and compelling responses that highlight your strengths and reflect your potential contributions to the UCSB community.
The Application Process
Applying to UCSB involves several steps, and it's important to stay organized throughout the process. Let's walk through each stage of the application process:
1. University of California Application
UCSB participates in the University of California Application system, which allows you to apply to multiple UC campuses simultaneously. Complete the application form accurately, including personal information, academic history, and extracurricular involvement.
2. Personal Insight Questions
As part of the application process, the University of California, Santa Barbara requires applicants to complete supplemental essays. These essays provide an opportunity for applicants to showcase their unique qualities, experiences, and aspirations beyond what is captured in their general application. Let's explore the supplemental essays required by UCSB:
Personal Insight Questions
UCSB uses a set of Personal Insight Questions (PIQs) as their supplemental essays. Applicants are required to respond to four out of eight prompts, with a maximum of 350 words for each response. The PIQs aim to provide a comprehensive understanding of the applicant's background, experiences, and perspectives. The questions cover a wide range of topics, allowing applicants to share their personal stories, achievements, challenges, and potential contributions to the UCSB community.
The eight PIQ prompts are:
Describe an example of your leadership experience in which you have positively influenced others, helped resolve disputes, or contributed to group efforts over time.

Every person has a creative side, and it can be expressed in many ways: problem-solving, original and innovative thinking, and artistically, to name a few. Describe how you express your creative side.

What would you say is your greatest talent or skill? How have you developed and demonstrated that talent over time?

Describe how you have taken advantage of a significant educational opportunity or worked to overcome an educational barrier you have faced.

Describe the most significant challenge you have faced and the steps you have taken to overcome this challenge. How has this challenge affected your academic achievement?

Describe your favorite academic subject and explain how it has influenced you.

What have you done to make your school or community a better place?

Beyond what has already been shared in your application, what do you believe makes you stand out as a strong candidate for admissions to the University of California?
Applicants should choose the questions that allow them to highlight their unique experiences, perspectives, and achievements. It is crucial to provide specific examples and reflect on the impact of those experiences.
By carefully considering and thoughtfully responding to the Personal Insight Questions, applicants have the opportunity to present a holistic picture of their background, aspirations, and potential contributions to the UCSB community.
Sample UC Essays
Prompt: What would you say is your greatest talent or skill? How have you developed and demonstrated that talent over time?
Answer:
With a blackened Q-tip, I gave him eyelids and pupils and smoothed the rough edges of his face. I used an eraser to shave down the sharpness of his jaw and add highlights to his skin. After scrutinizing the proportions, I smiled at the finished pencil portrait. Kim Jong-dae was now ready to be wrapped as the perfect present for my friend.

Aside from Korean pop singers, I've drawn a variety of other characters. From the gritty roughness of Marvel comics to the soft, cuteness of Sanrio animals, I've drawn them all as a creative touch to top off birthday presents. It's simply the way I choose to express myself when words cannot suffice.

But being an artist comes with its own social expectations. At school, it's made me the "art girl" who is expected to design the banners and posters. At home, it's prompted long distant relatives -- regardless of how much I actually know them -- to ask me to draw their portraits. In addition, whenever my parents invite coworkers to my house, I've had to deal with the embarrassment of showing my whole portfolio to complete strangers.

On the bright side, being an artist has taught me to take risks and experiment with new techniques and media. It's taught me to draw meaning and intent with minimal words and text. It's taught me to organize and focus, by simplifying subjects and filtering out the insignificant details.

Most of all, art has made me a more empathetic human. In drawing a person, I live in their shoes for a moment and try to understand them. I take note of the little idiosyncrasies. I let the details--a hijab, a piercing on a nose, a scar on the chin--tell me their personality, their thoughts, their worldview. I recognize the shared features that make us human and appreciate the differences in culture and values that make us unique. And it's from this that I am able to embrace the diversity and complexity of people beyond a superficial surface and approach the world with an open heart and an open mind.
Prompt: Describe how you have taken advantage of a significant educational opportunity or worked to overcome an educational barrier you have faced.
Answer:
Freshman year, I fell in love with the smell of formaldehyde for its promise of an especially exciting day in Biology. Although my school's STEM education excelled in theory and concepts, career-focused hands-on experience was lacking and I grew nostalgic for dissections. By junior year, I still had almost no idea what I would do in the future. When asked, I'd mumble a response about biochemistry or technology without daring to specify a job.
Then, I discovered MIT's Women's Technology Program and its mission to allow high school girls with little experience in engineering and CS to explore the fields. Naturally, I applied in a blink, and somehow even got accepted.
When I started the program, I never expected to become so enamored with computer science. Every day, I took pages of notes during the class lecture, then enthusiastically attacked the homework problems during the evening. In fact, most nights I stayed late in the computer lab trying to finish just one more (optional) challenge problem or add more features to already completed programs. The assignments themselves ranged from simply printing "hello world" to completing a functional version of Tetris. One of my favorite programs was a Hangman game that made sarcastic remarks at invalid inputs.
However, some programs were notoriously difficult, sparking countless frustrated jokes among the candidates: a version of the card game War overly prone to infinite loops, a queue class apparently comprised entirely of index errors. The sign-up list for TA help overflowed with increasing frequency as the curriculum grew more difficult. So, after I finished a program, I often helped my peers with debugging by pointing out syntax errors and logical missteps. In the final week, I was chosen to be a presenter for CS at the Final Dinner, speaking about the subject I loved to program donors and peers alike.
In that amazing month, I discovered a field that blends creativity with logic and a renewed passion for learning and exploration. Now, imagining my no-longer-nebulous future brings excitement.
And somehow, that excitement always smells faintly of formaldehyde.
3. Letters of Recommendation
UCSB typically requires two letters of recommendation from teachers, counselors, or other individuals who can speak to your academic abilities, personal character, and potential for success at the university. Choose recommenders who know you well and can provide specific examples of your achievements and qualities.
4. Standardized Test Scores
UCSB follows a test-optional policy for undergraduate applicants. This means that submitting SAT or ACT scores is optional. However, strong test scores can still be beneficial for certain scholarships or specialized programs. Review the specific requirements for your desired major or program before deciding whether to submit scores.
5. Application Fee or Fee Waiver
There is an application fee to submit your application to UCSB. However, fee waivers are available for eligible students who demonstrate financial need. Check the UCSB admissions website for specific details and instructions on obtaining a fee waiver.
6. Deadlines
Understanding the application deadlines is crucial when applying to the University of California, Santa Barbara. As part of the University of California (UC) system, UCSB follows the UC application timeline, which has specific deadlines for different application periods.
Fall Term Admission
For students seeking admission for the fall term, the application filing period opens on November 1 and closes on November 30. During this time, prospective students must submit their applications through the UC application portal.
Transfer Admission
Transfer students have a separate application filing period. For those aiming to transfer to UCSB for the fall term, the application filing period is from November 1 to November 30. During this time, transfer applicants must also submit their applications through the UC application portal.
Winter Quarter Admission
UCSB offers a limited number of undergraduate programs that admit students for the winter quarter. The application filing period for winter quarter admission is typically from July 1 to July 31.
Spring Quarter Admission
Similar to the winter quarter, UCSB also offers admission for a limited number of undergraduate programs for the spring quarter. The application filing period for spring quarter admission is typically from October 1 to October 31.
It's essential to note that the application filing period indicates the time frame during which prospective students can submit their applications. However, some programs or majors may have additional requirements or deadlines beyond the general filing period. It's crucial to review the specific requirements for the desired major or program to ensure compliance with any additional deadlines or materials.
Prospective students should also keep in mind that the UC application requires various components, such as the Personal Insight Questions, official transcripts, and test scores. It's essential to gather and submit all required materials by the specified deadlines to ensure a complete and timely application.
Scholarships and Financial Aid
UCSB is committed to providing access to education and offers various scholarships and financial aid options to assist students. Here are a few examples:
UCSB Scholarships: UCSB offers a range of merit-based scholarships to incoming students who demonstrate exceptional academic achievements, leadership qualities, or other outstanding accomplishments. These scholarships are awarded based on the overall strength of the applicant pool.

Financial Aid: UCSB's Office of Financial Aid and Scholarships provides need-based financial aid to eligible students. By submitting the Free Application for Federal Student Aid (FAFSA) and the CSS Profile, students can be considered for grants, loans, work-study programs, and other forms of financial assistance.

External Scholarships: There are also external scholarship opportunities available to UCSB students. Research and apply for scholarships offered by organizations, foundations, and community groups that align with your interests and qualifications.
Campus Life and Resources
UCSB offers a vibrant campus life with a variety of resources and opportunities for students to engage in. Here are some highlights:
Academic Excellence: UCSB is renowned for its academic programs and research opportunities. With over 90 undergraduate majors and minors across various disciplines, students have the flexibility to explore their interests and pursue interdisciplinary studies.

Student Organizations and Activities: UCSB boasts a diverse array of student organizations, clubs, and extracurricular activities. Whether you're interested in academic clubs, cultural organizations, community service initiatives, or sports, there are numerous opportunities to get involved and make lasting connections.

Research and Internship Opportunities: UCSB is a leading research institution, providing undergraduate students with extensive research and internship opportunities. Students can collaborate with renowned faculty members, participate in groundbreaking research projects, and gain hands-on experience in their fields of interest.

Support Services: UCSB offers a range of support services, including academic advising, tutoring, counseling, and career development resources. Take advantage of these services to enhance your academic success, personal well-being, and career readiness.
Frequently Asked Questions
What is the acceptance rate at UCSB?

The acceptance rate for UCSB varies each year and depends on the applicant pool. It is generally competitive, with an average acceptance rate of around 30%.
Are interviews required for admission to UCSB?

No, interviews are not typically required for undergraduate applicants to UCSB. Admissions decisions are primarily based on the application materials submitted.
What majors and programs are offered at UCSB?

UCSB offers a wide range of undergraduate majors and programs in areas such as arts and humanities, social sciences, natural sciences, engineering, business, and environmental studies. Explore the UCSB website for a comprehensive list of available majors.
Conclusion
UC Santa Barbara (UCSB) offers a remarkable educational experience characterized by academic excellence, vibrant campus life, and diverse opportunities for growth and exploration. By understanding the UCSB admissions profile, you can approach the application process with confidence. Best of luck as you embark on this exciting journey towards an exceptional education at UCSB.