Admit hero's
University of California, Los Angeles (UCLA) Admissions Profile
Keep reading to learn more about UCLA's admissions process, including extracurriculars, personal essays, and interviews. Maximize your application to UCLA and schedule a free consultation with one of our counselors!
Introduction
UCLA (University of California, Los Angeles) stands as an iconic institution known for its academic excellence, vibrant campus life, and a commitment to diversity and inclusion. Located in the vibrant city of Los Angeles, UCLA attracts students from all over the world who aspire to be part of a thriving community that fosters intellectual growth and personal development. In this comprehensive article, we delve into the UCLA admissions profile, shedding light on the key factors that shape the application process, the qualities UCLA seeks in its applicants, and valuable insights for prospective students. If you're ready to embark on a journey of discovery, growth, and opportunity, read on to uncover the secrets behind UCLA's admissions process.
UCLA University Admissions Profile
UCLA has a highly competitive admissions process that considers various aspects of an applicant's profile. Understanding the UCLA admissions profile is crucial for prospective students aiming to secure a place at this esteemed institution. Let's explore the essential components of the UCLA admissions profile to gain valuable insights into the application process.
Below are tables highlighting how UCLA evaluates each applicant through information published in the Common Data Set, a resource that compiles a standardized list of data items provided by universities about their admissions profiles.
Distribution of high school units required and/or recommended

Relative importance of each of the following academic and nonacademic factors in your first-time, first-year, degree-seeking general (not including programs with specific criteria) admission decisions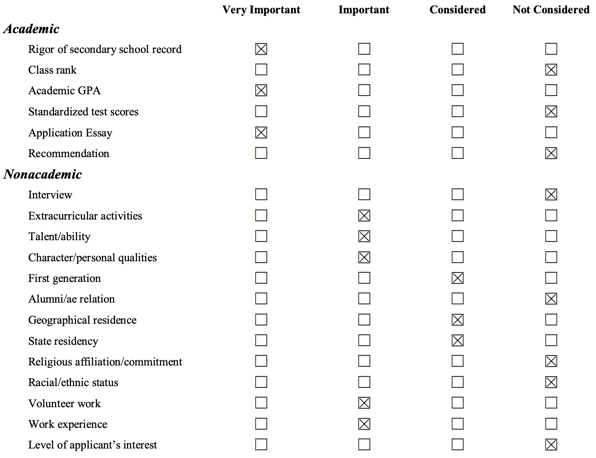 Academic Excellence: A Strong Foundation
UCLA places significant emphasis on academic excellence. The admissions committee evaluates an applicant's high school academic record, including course selection, grades achieved, and overall GPA. UCLA seeks students who have excelled in rigorous coursework, demonstrated intellectual curiosity, and shown a passion for learning. Strong performance in core subjects, particularly in areas aligned with the applicant's intended field of study, can positively impact their candidacy.
Standardized Test Scores: Demonstrating Aptitude
Standardized test scores, such as the SAT or ACT, play a role in the evaluation process at UCLA. While the university takes a holistic approach to admissions, strong performance in standardized tests can enhance an applicant's profile. High scores in critical reading, writing, math, and relevant subject tests can demonstrate an applicant's academic abilities and potential for success at UCLA.
Supplemental Essays in UCLA's Admissions Process
As part of the application process, the University of California, Los Angeles (UCLA) requires applicants to submit supplemental essays in addition to the general UC application. These essays offer an opportunity for applicants to provide more context about their experiences, aspirations, and personal qualities. Let's explore the supplemental essays required by UCLA:
Personal Insight Questions
UCLA requires applicants to respond to four out of eight Personal Insight Questions (PIQs). Each response has a maximum limit of 350 words. The PIQs aim to give applicants the chance to showcase their unique perspectives, achievements, and potential contributions to the UCLA community. The questions cover a broad range of topics, allowing applicants to share their personal stories, challenges overcome, leadership experiences, and significant achievements.
The eight PIQs are:
Describe an example of your leadership experience in which you have positively influenced others, helped resolve disputes, or contributed to group efforts over time.

Every person has a creative side, and it can be expressed in many ways: problem-solving, original and innovative thinking, and artistically, to name a few. Describe how you express your creative side.

What would you say is your greatest talent or skill? How have you developed and demonstrated that talent over time?

Describe how you have taken advantage of a significant educational opportunity or worked to overcome an educational barrier you have faced.

Describe the most significant challenge you have faced and the steps you have taken to overcome this challenge. How has this challenge affected your academic achievement?

Think about an academic subject that inspires you. Describe how you have furthered this interest inside and/or outside of the classroom.

What have you done to make your school or your community a better place?

Beyond what has already been shared in your application, what do you believe makes you stand out as a strong candidate for admissions to the University of California?
Applicants should choose the questions that allow them to showcase their unique qualities, experiences, and perspectives. It is essential to provide specific examples and demonstrate self-reflection in the responses.
By carefully considering and thoughtfully responding to the Personal Insight Questions, applicants have the opportunity to provide a comprehensive picture of their background, achievements, and aspirations to the UCLA admissions committee.
Sample UC Essays
Prompt: Describe the most significant challenge you have faced and the steps you have taken to overcome this challenge. How has this challenge affected your academic achievement?
Essay:
When I was fifteen years old I broke up with my mother. We could still be friends, I told her, but I needed my space, and she couldn't give me that.
She and I both knew that I was the only person that she had in America. Her family was in Russia, she only spoke to her estranged ex-husband in court, her oldest son avoided her at all costs. And yet, at fifteen years old, I wasn't equipped to effectively calm her down from her nightly anxiety attacks. At forty-three, she wasn't willing to believe that I did love her, but that I couldn't be responsible for stabilizing her life.
Moving in with my dad full time felt like I was abandoning her after tying a noose around her neck. But as my Drama teacher (and guardian angel) pointed out, my mother wasn't going to get better if I kept enabling her, and that I wasn't going to be able to grow if I was constrained by her dependence on me.
For the first time, I had taken action. I was never again going to passively let life happen to me.
During four long months of separation, I filled the space that my mom previously dominated with learning: everything and anything. I taught myself French through online programs, built websites, and began began editing my drawings on Photoshop to sell them online. When my dad lost his third job in five years, I learned to sew my own clothes and applied my new knowledge to costume design in the Drama Department.
On stage, I learned to empathize. Backstage, I worked with teams of dedicated and mutually supportive students. In our improv group, I gained the confidence to act on my instincts. With the help of my Drama teacher, I learned to humble myself enough to ask for help.
On my sixteenth birthday, I picked up the phone and dialed my mom. I waited through three agonizingly long pauses between rings.
"Katyush?"
"Hi mom, it's me."
Prompt: Think about an academic subject that inspires you. Describe how you have furthered this interest inside and/or outside of the classroom.
Essay:
When I was 10, my dad told me that in and on my body, bacteria outnumbered human cells. For a 10 year old, this was a horrifying idea. I squeezed my forearms tightly in attempts to squish the foreigners to death. I showered in way-too-hot-for-ten-year-olds water. I poured lemon juice all over my body.
Today, however, I'm no longer terrified of hosting miniscule pals; instead, I embrace them as a way to be surrounded daily by microbiology. Ever since my sixth grade teacher showed my class a video on Typhoid Mary and taught us about pathogens, I've been fascinated by and with cells. I decided then that I wanted to be a doctor and study microbiology.
Over the summer, I shadowed Dr. Wong Mei Ling, a General Practitioner. I observed case after case of bacterial interactions on the human body: an inflamed crimson esophagus suffering from streptococcus, bulging flesh from a staph infection, food poisoning from e.coli-laden dishes. I was her researcher, looking up new drugs or potential illnesses that cause particular symptoms.
Intrigued by the sensitive balance between the good and bad bacteria on our bodies, I changed my lifestyle after researching more about our biological processes. I viewed my cheek cells through a microscope in AP Bio, and I realized that each cell needs to be given the right nutrients. Learning about foods enhancing my organ functions and immune system, I now eat yogurt regularly for the daily intake of probiotics to facilitate my digestion.
As a future pediatrician, I hope to teach children how to live symbiotically with bacteria instead of fearing them. I will stress the importance of achieving the right balance of good and bad microbes through healthy habits.
Rather than attempting to extinguish the microbes on me, today I dream of working in an environment loaded with bacteria, whether it's finding cures for diseases or curing kids from illnesses. Like a daily reminder, the minute microbes in and on me serve as a reminder of my passion for the complex but tiny foundation of life.
Demonstrated Leadership and Extracurricular Involvement: Making an Impact
UCLA values applicants who have demonstrated leadership potential and a commitment to their communities. Engagement in extracurricular activities, community service, sports, clubs, or initiatives that showcase leadership, teamwork, and community impact can positively influence an applicant's profile. UCLA seeks individuals who are not only academically accomplished but also have the drive to make a difference in the world around them.
Letters of Recommendation: Testimonials of Excellence
Letters of recommendation offer valuable insights into an applicant's character, abilities, and potential for success. UCLA typically requires two letters of recommendation, often from teachers, mentors, or counselors who can speak to an applicant's academic achievements, personal qualities, and potential contributions to the university community. Selecting recommenders who know the applicant well and can provide specific examples of their strengths is crucial.
UCLA Application Deadlines
Understanding the application deadlines is crucial when applying to the University of California, Los Angeles (UCLA). As part of the University of California (UC) system, UCLA follows the UC application timeline, which has specific deadlines for different application periods.
Fall Term Admission
For students seeking admission for the fall term, the application filing period opens on November 1 and closes on November 30. During this time, prospective students must submit their applications through the UC application portal.
Transfer Admission
Transfer students have a separate application filing period. For those aiming to transfer to UCLA for the fall term, the application filing period is from November 1 to November 30. During this time, transfer applicants must also submit their applications through the UC application portal.
Winter Quarter Admission
UCLA offers a limited number of undergraduate programs that admit students for the winter quarter. The application filing period for winter quarter admission is typically from July 1 to July 31.
Spring Quarter Admission
Similar to the winter quarter, UCLA also offers admission for a limited number of undergraduate programs for the spring quarter. The application filing period for spring quarter admission is typically from October 1 to October 31.
It's essential to note that the application filing period indicates the time frame during which prospective students can submit their applications. However, some programs or majors may have additional requirements or deadlines beyond the general filing period. It's crucial to review the specific requirements for the desired major or program to ensure compliance with any additional deadlines or materials.
Prospective students should also keep in mind that the UC application requires various components, such as the Personal Insight Questions, official transcripts, and test scores. It's essential to gather and submit all required materials by the specified deadlines to ensure a complete and timely application.
By understanding and adhering to the application deadlines, prospective students can navigate the UCLA admissions process effectively and increase their chances of being considered for admission to this prestigious institution.
Frequently Asked Questions
What is the acceptance rate at UCLA?

The acceptance rate at UCLA is typically around 12-14%, making it a highly competitive institution.
Does UCLA require interviews for all applicants?

No, UCLA does not require interviews for all applicants. Interviews are typically conducted on an invitation-only basis.
Does UCLA consider demonstrated interest in admissions decisions?

UCLA takes a holistic approach to admissions and does not formally track demonstrated interest. Admissions decisions are primarily based on an applicant's qualifications, achievements, and fit with the university's academic community.
Conclusion
Securing admission to UCLA requires a combination of academic excellence, personal growth, and a commitment to making a positive impact. By understanding the various components of the UCLA admissions profile and showcasing your unique strengths, you can increase your chances of joining the esteemed UCLA community. So, dream big, pursue your passions, and let your potential shine as you embark on an exciting educational journey at UCLA.