Admit hero's
Stanford University Admissions Profile
Keep reading to learn more about Stanford's admissions process, including extracurriculars, personal essays, and interviews. Maximize your application to Stanford and schedule a free consultation with one of our counselors!
Introduction
Stanford University, renowned for its world-class education, groundbreaking research, and entrepreneurial spirit, stands as a beacon of intellectual excellence. Students from around the globe aspire to become part of the Stanford community and contribute to its legacy of innovation and impact. In this comprehensive article, we delve into the Stanford University admissions profile, shedding light on the key factors that shape the application process, the qualities Stanford seeks in its applicants, and valuable insights for prospective students. If you're ready to embark on a journey of academic and personal growth, read on to discover the secrets behind Stanford's admissions process.
Stanford University Admissions Profile
Stanford University, nestled in the heart of Silicon Valley, has a highly selective admissions process that considers various aspects of an applicant's profile. Understanding the Stanford University admissions profile is crucial for prospective students aiming to secure a place at this esteemed institution. Let's explore the essential components of the Stanford University admissions profile to gain valuable insights into the application process.
Below are tables highlighting how Stanford evaluates each applicant through information published in the Common Data Set, a resource that compiles a standardized list of data items provided by universities about their admissions profiles.
Distribution of high school units required and/or recommended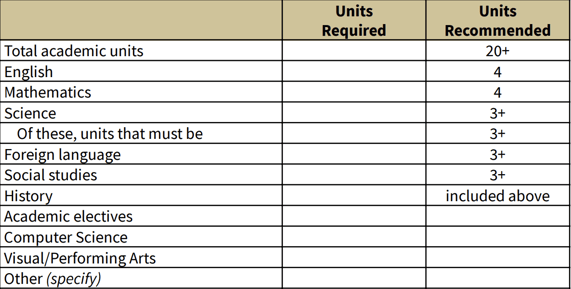 Relative importance of each of the following academic and nonacademic factors in your first-time, first-year, degree-seeking general (not including programs with specific criteria) admissions decisions

SAT and ACT Policies


Academic Excellence: A Strong Foundation
Stanford University places significant emphasis on academic excellence. The admissions committee evaluates an applicant's high school academic record, including course selection, grades achieved, and overall GPA. Stanford seeks students who have demonstrated intellectual curiosity, a love for learning, and a track record of academic success. Rigorous coursework, advanced placement classes, and exceptional grades can positively impact an applicant's candidacy.
Standardized Test Scores: Demonstrating Aptitude
Standardized test scores, such as the SAT or ACT, play a role in the evaluation process at Stanford University. While Stanford takes a holistic approach to admissions, strong performance in standardized tests can enhance an applicant's profile. High scores in critical reading, writing, math, and relevant subject tests can demonstrate an applicant's academic abilities and potential for success at Stanford.
Extracurricular Engagement: Pursuing Passions and Leadership
Stanford values students who actively engage in extracurricular activities and demonstrate leadership potential. Participation in clubs, sports, community service, research, entrepreneurship, and other pursuits showcases an applicant's diverse interests, passions, and ability to make a positive impact. Stanford seeks individuals who have shown initiative, creativity, and a commitment to making a difference.
Personal Essays: Expressing Personal Narratives
The personal essays provide applicants with an opportunity to express their unique stories, experiences, and aspirations. Stanford University values authenticity and looks for applicants who can articulate their perspectives and personal growth. Through the essays, applicants can showcase their intellectual curiosity, values, and alignment with Stanford's mission. Well-crafted and thoughtful essays can greatly strengthen an applicant's candidacy.
Supplemental Essays in Stanford University's Admissions Process
Supplemental essays are a vital part of Stanford University's application process, providing an opportunity for applicants to express their individuality, interests, and personal experiences beyond the limits of their academic transcripts and standardized test scores.
For the 2023-2024 admissions cycle, Stanford requires a series of short-answer and essay responses, designed to delve into different facets of an applicant's personality and aspirations. Here's a detailed look:
Short Answer Questions
Applicants are required to respond to several short answer questions that generally focus on the applicant's extracurricular activities, intellectual pursuits, and personal interests. For instance, one question might ask students to elaborate on a concept in their field of interest that intrigues them. Another could ask about a recent meaningful extracurricular activity or work experience. These responses, limited to 50-150 words each, should highlight your passions, creativity, and how you spend your time.
Longer Essays
In addition to short answers, Stanford asks applicants to write three longer essays.
The first essay, the "Students Speak" essay, asks students to write a letter to their future college roommates. This creative and open-ended prompt is an opportunity to showcase your personality, quirks, hobbies, and any fun or interesting facts about yourself.

The second essay asks students what they believe is the most significant challenge that society faces today. This prompt aims to assess your awareness and understanding of global issues, as well as your ability to think critically and propose solutions.

The third essay is the "Why Stanford" essay, where students are asked to elaborate on their reasons for applying to Stanford and how they hope to use their education in their future pursuits.
These essays should be between 100 and 250 words, allowing you to delve deeper into your experiences, insights, and aspirations. Stanford's essay prompts are designed to assess your thinking, interests, and potential contribution to the Stanford community.
In writing these essays, authenticity and personal reflection are key. Stanford's admission officers are not merely seeking accomplished students but are also looking for individuals who will contribute meaningfully to the university's diverse and dynamic community. By using these essays to express your unique perspectives and experiences, you can help the admissions committee understand your potential impact on the Stanford community.
Sample Essays/Responses
Prompt: What is the most significant challenge that society faces today?
Answer: RECOGNIZING. CLIMATE. CHANGE.
Prompt: How did you spend your last two summers?
Answer: [Date]: Working with the head of IT at Golden Gate Parks and Rec to renovate the social media program and redesign the website. (sfrecpark.org)
[Date]: Studying at Stanford High School Summer College, building a family in two months.
Prompt: What historical moment or event do you wish you could have witnessed?
Answer: The Trinity test, the first detonation of the atomic bomb. For one, an opportunity to meet my role models: Oppenheimer, Feynman, Fermi, etc. But also, to witness the 4 millisecond shift to an era of humanity that could eradicate itself. "Now I am become Death, the destroyer of worlds."
Prompt: Name one thing you are looking forward to experiencing at Stanford.
Answer:
Representing an ideal.
Stanford is a gathering place of people working towards a common ideal; one of engagement, passion, intellectual vitality, and devotion to progress. This is what I stand for, so I want to help Stanford represent it.
(Also those cream cheese croissants from CoHo.)
Prompt: What five words best describe you? (5 words max)
Answer: I don't conform to arbitrary boundaries.
Prompt: Imagine you had an extra hour in the day — how would you spend that time?
Answer: One extra hour is thirty minutes extra of daylight.
The US has 28 GW of installed solar capacity. With the extra daylight, there will be a 4% increase in national capacity, an entire GW added. This small increase alone powers 700,000 homes. I'm spending the time investing in photovoltaics!
Prompt: The Stanford community is deeply curious and driven to learn in and out of the classroom. Reflect on an idea or experience that makes you genuinely excited about learning.
Answer:
It's here.
I rip open the package.
It feels sleek along my fingertips. Three volumes. Gorgeous red binding with stunning silver lettering. THE Feynman LECTURES ON PHYSICS The NEW MILLENIUM Edition
I had heard about them previously, but a Quora thread on "essential physics texts" convinced me to invest in them. I thought I was buying a textbook, but I was buying a new way of life. That night, while I laid in bed, Feynman changed my entire perspective of the universe. In the first lecture.
Not only was he a Nobel prize winning physicist with a unique approach to the subject, but his pedagogical capabilities were perfectly suited to my personality. When Feynman teaches, he does not just teach physics, he teaches how to think and understand. He helped me recognize that my passion wasn't for physics, it was for a passion for learning and understanding.
Spoken directly from the source: "I don't know anything, but I do know that everything is interesting if you go into it deeply enough."
Reading the Lectures rouses within me the most intense feeling of elation I have ever experienced. When I open the Lectures, any bad mood is erased, any haze in my mind is cleared away, and I become the person I strive to be.
Now, I always have at least one of the Lectures on me. At festivals, in backpacks, in carryons, if I am there, so are the Lectures.
Letters of Recommendation: Testimonies of Character and Achievement
Strong letters of recommendation provide valuable insights into an applicant's character, abilities, and potential for success. Stanford requires two teacher recommendations that shed light on an applicant's academic achievements, personal qualities, and potential contributions to the Stanford community. Selecting recommenders who know the applicant well and can provide specific examples is crucial.
Demonstrated Impact: Making a Difference
Stanford University values applicants who have made a positive impact in their communities and beyond. Engaging in extracurricular activities, community service, research projects, or initiatives that address societal challenges showcases an applicant's commitment to making a difference. Stanford seeks individuals who demonstrate leadership, collaboration, and a desire to use their talents and knowledge for the betterment of society.
Stanford University Application Deadlines
Understanding Stanford University's application deadlines is a critical step in successfully navigating the admissions process. Stanford offers two application plans for prospective students: Restrictive Early Action (REA) and Regular Decision (RD). Each of these plans carries its own deadlines, providing flexibility for applicants to choose the path that best suits their needs.
Restrictive Early Action
Stanford's REA program is intended for students who consider Stanford to be their top choice. The application deadline for REA is November 1. Under this plan, applicants may apply to other colleges' Regular Decision, Rolling Admission, or non-binding Early Action programs, but they may not apply to any colleges' binding Early Decision programs or any other private colleges' Early Action programs.
Admissions decisions for REA applicants are released in mid-December. Those who are admitted have until May 1 to accept or decline their offer. This allows admitted students ample time to consider their financial aid packages, compare offers from other universities, and make the most informed decision possible.
Regular Decision
The application deadline for Regular Decision at Stanford is January 2. This later deadline allows students more time to compile and perfect their applications, potentially incorporating accomplishments from their senior year.
Regular Decision applicants will receive their admissions decisions by April 1. Admitted students then have until May 1 to respond to their offer, allowing sufficient time to evaluate all their options.
Financial Aid Application
For financial aid consideration, students must submit the CSS Profile and FAFSA by February 15. Stanford University offers need-blind admissions for U.S. citizens and permanent residents, and meets 100% of demonstrated need for all admitted students.
Please note that Stanford's application deadlines are strict, and applications must be submitted by 11:59 PM Pacific Standard Time (PST) on the respective deadline dates. Late applications are usually not accepted.
Applying to Stanford University requires careful planning, time management, and strategic effort. By adhering to these deadlines and preparing a compelling application, students take their first steps toward joining Stanford's vibrant and academically rigorous community.
Frequently Asked Questions
What is the acceptance rate at Stanford?

Stanford University's acceptance rate is typically below 5%, making it one of the most selective institutions in the world.
Does Stanford require interviews for all applicants?

No, Stanford University does not offer interviews to all applicants. Interviews are typically conducted on an invitation-only basis.
Does Stanford University consider demonstrated interest in admissions decisions?

Stanford University does not formally track demonstrated interest. Admissions decisions are primarily based on an applicant's qualifications, achievements, and fit with the university's mission.
Conclusion
Securing admission to Stanford University requires a combination of academic excellence, intellectual curiosity, and a desire to make a positive impact on the world. By understanding the various components of the Stanford University admissions profile and showcasing your unique strengths, you can increase your chances of joining the esteemed Stanford community. So, dream big, think boldly, and let your passion for knowledge and innovation guide you toward unlocking the doors to academic excellence at Stanford University.