Admit hero's
Duke University Admissions Profile
Keep reading to learn more about Duke's admissions process, including extracurriculars, personal essays, and interviews. Maximize your application to Duke and schedule a free consultation with one of our counselors!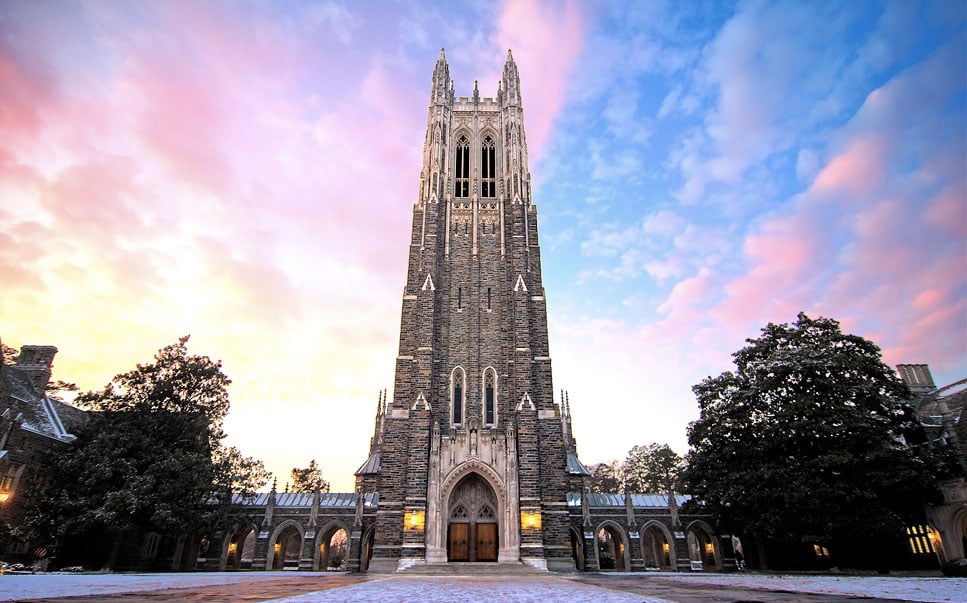 Introduction
Duke University, located in Durham, North Carolina, is a prestigious institution known for its academic rigor, innovative research, and commitment to fostering leaders. Students from around the world aspire to join the Duke community and immerse themselves in a transformative educational experience. In this comprehensive article, we delve into the Duke University admissions profile, shedding light on the key factors that shape the application process, the qualities Duke seeks in its applicants, and valuable insights for prospective students. If you're ready to embark on a journey of academic excellence and personal growth, read on to uncover the secrets behind Duke's admissions process.
Duke University Admissions Profile
Duke University has a highly selective admissions process that considers various aspects of an applicant's profile. Understanding the Duke University admissions profile is crucial for prospective students aiming to secure a place at this esteemed institution. Let's explore the essential components of the Duke University admissions profile to gain valuable insights into the application process.
Academic Excellence: A Strong Foundation
Duke University places significant emphasis on academic excellence. The admissions committee evaluates an applicant's high school academic record, including course selection, grades achieved, and overall GPA. Duke seeks students who have challenged themselves with rigorous coursework, excelled academically, and demonstrated intellectual curiosity. Strong performance in core subjects, particularly in areas aligned with the applicant's intended field of study, can positively impact their candidacy.
Standardized Test Scores: Demonstrating Aptitude
Standardized test scores, such as the SAT or ACT, play a role in the evaluation process at Duke University. While Duke takes a holistic approach to admissions, strong performance in standardized tests can enhance an applicant's profile. High scores in critical reading, writing, math, and relevant subject tests can demonstrate an applicant's academic abilities and potential for success at Duke.
Extracurricular Engagement: Pursuing Passions and Impact
Duke University values applicants who have shown engagement and leadership in extracurricular activities. Participation in clubs, sports, community service, research projects, or other pursuits demonstrates an applicant's diverse interests, passion, and commitment to making a positive impact. Duke seeks individuals who have made meaningful contributions and shown a capacity for leadership and collaboration.
Personal Essays: Expressing Personal Narratives
The personal essays provide applicants with an opportunity to showcase their unique perspectives, experiences, and aspirations. Duke University values authentic and compelling responses that reflect an applicant's voice, intellectual curiosity, and personal growth. Through the essays, applicants can convey their motivations, goals, and their fit with Duke's values and mission. Thoughtful and well-crafted essays can significantly strengthen an applicant's candidacy.
Supplemental Essays in Duke University's Admissions Process
The Duke University application process is made unique by the inclusion of supplemental essays. These essays allow applicants to share more about their individuality, interests, and personal experiences, providing a broader view of their potential contribution to the Duke community.
For the 2023-2024 application cycle, Duke requires a series of short and long essays, each targeting a different aspect of the applicant's character and ambitions. Here is a detailed look at these requirements:
Short Essay Questions
Applicants must respond to two prompts that enable them to discuss their background and aspirations. The first prompt requires applicants to share about their family, home, neighborhood, or community and how it has shaped them as a person. The second prompt is a classic 'Why Duke' question where applicants need to discuss why they consider Duke a good fit for them and how they intend to contribute to the university community.
These short essays, capped at 250 words each, offer a platform to portray personal experiences and demonstrate understanding of Duke's unique community and offerings.
Longer Essays (Optional)
Duke also provides optional essay prompts for students to demonstrate their unique perspectives or experiences that weren't captured in the required essays. These optional prompts often focus on diversity, personal growth, or intellectual interests. While optional, these essays provide a valuable opportunity to share unique stories or experiences that can enrich an applicant's profile.
Program-Specific Essays
For students applying to the Pratt School of Engineering, there is an additional required essay prompt asking why they want to study engineering and why they have chosen to do so at Duke.
In all essays, students should strive to be authentic and self-reflective, focusing on unique experiences or perspectives that truly represent their individual journeys. Duke admissions officers seek students who will bring a diverse array of experiences, perspectives, and talents to their community, so a well-written, thoughtful essay can significantly enhance an application.
Letters of Recommendation: Insights from Others
Letters of recommendation offer valuable insights into an applicant's character, abilities, and potential for success. Duke University typically requires two letters of recommendation, often from teachers or mentors who can speak to an applicant's academic achievements, personal qualities, and potential contributions to the Duke community. Selecting recommenders who know the applicant well and can provide specific examples of their strengths is essential.
Demonstrated Impact: Making a Difference
Duke University values applicants who have made a positive impact in their communities and beyond. Engaging in extracurricular activities, community service, research projects, or initiatives that address societal challenges showcases an applicant's commitment to making a difference. Duke seeks individuals who demonstrate leadership, resilience, and a desire to contribute to the betterment of society.
Duke University Application Deadlines
Understanding the application deadlines is a crucial part of the Duke University admissions process. Duke offers two application plans: Early Decision (ED) and Regular Decision (RD). Each plan has a distinct timeline, providing flexibility for students to choose the one that aligns best with their college application strategy.
Early Decision
Duke's Early Decision program is a binding plan, which means that students who apply through this program commit to enroll at Duke if they are admitted. The deadline for ED applications is November 1. Admissions decisions for the Early Decision applicants are generally released in mid-December.
ED is designed for students who are certain that Duke is their first choice for college. If admitted, students agree to withdraw all applications from other colleges and submit their enrollment deposit to Duke.
Regular Decision
The deadline for Regular Decision applications at Duke is January 3. This application plan allows students more time to finalize their applications, potentially incorporating their achievements from the first half of the senior year.
Decisions for RD applications are usually announced by April 1. Admitted students have until May 1, the National Candidates Reply Date, to accept or decline their offer of admission.
Financial Aid Application
Students applying for need-based financial aid should submit both the CSS Profile and the FAFSA by November 15 for Early Decision or February 1 for Regular Decision. Duke University meets 100% of demonstrated financial need for all admitted students.
All application components must be submitted by 11:59 PM Eastern Standard Time (EST) on the respective dates. Duke strictly adheres to these deadlines and typically does not accept late applications.
The admissions process at Duke University requires careful planning and preparation. By understanding these deadlines and crafting a compelling application, students can ensure they present their best selves to the admissions committee.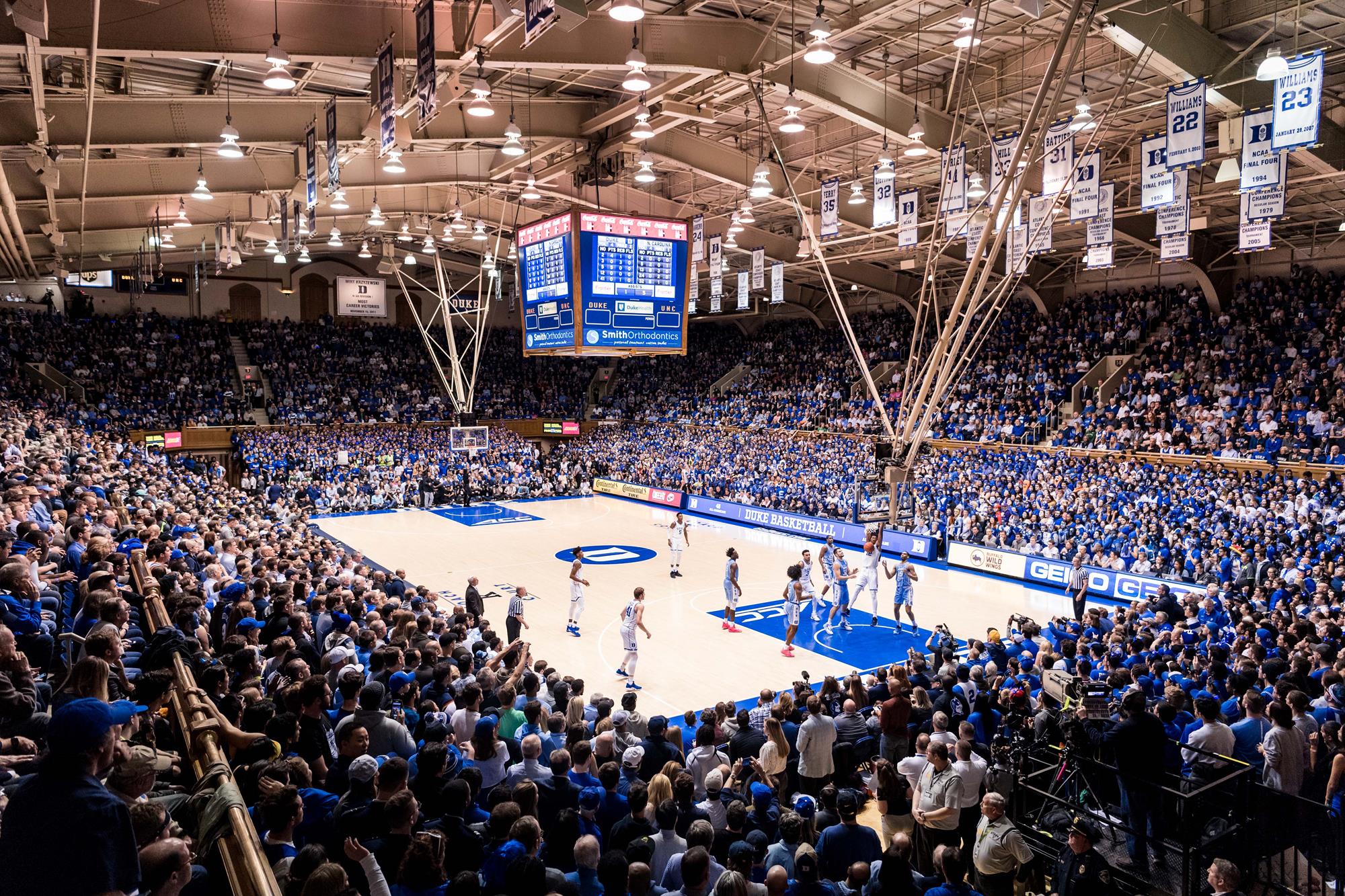 Frequently Asked Questions
What is the acceptance rate at Duke?

The acceptance rate at Duke University is typically around 7-8%, making it a highly competitive institution.
Does Duke require interviews for all applicants?

No, Duke University does not require interviews for all applicants. Interviews are typically conducted on an invitation-only basis.
Does Duke consider demonstrated interest in admissions decisions?

Duke University does not formally track demonstrated interest. Admissions decisions are primarily based on an applicant's qualifications, achievements, and fit with the university's academic community.
Conclusion
Securing admission to Duke University requires a combination of academic excellence, engagement, and a commitment to making a positive impact. By understanding the various components of the Duke University admissions profile and showcasing your unique strengths, you can increase your chances of joining the esteemed Duke community. So, dare to dream big, embrace your passions, and let your potential shine as you embark on a transformative educational journey at Duke University.