Admit hero's
Columbia University Admissions Profile
Keep reading to learn more about Columbia's admissions process, including extracurriculars, personal essays, and interviews. Maximize your application to Columbia and schedule a free consultation with one of our counselors!
Introduction
Columbia University, an Ivy League institution nestled in the vibrant city of New York, is renowned for its academic excellence and global impact. Aspiring students from all corners of the world dream of gaining admission to Columbia, driven by the desire to pursue their educational and intellectual aspirations. In this comprehensive article, we delve into the Columbia University admissions profile, shedding light on the key factors that shape the application process, the qualities Columbia seeks in its applicants, and valuable insights for prospective students. So, if you're ready to unlock the doors to intellectual discovery, read on to discover the secrets behind Columbia University's admissions process.
Columbia University Admissions Profile
Columbia University, situated in the heart of Manhattan, has a highly selective admissions process that considers various aspects of an applicant's profile. Understanding the Columbia University admissions profile is essential for prospective students aiming to secure a place at this esteemed institution. Let's explore the crucial components of the Columbia University admissions profile to gain valuable insights into the application process.
Below are tables highlighting how Columbia evaluates each applicant through information published in the Common Data Set, a resource that compiles a standardized list of data items provided by universities about their admissions profiles.
Engineering: Distribution of high school units required and/or recommended.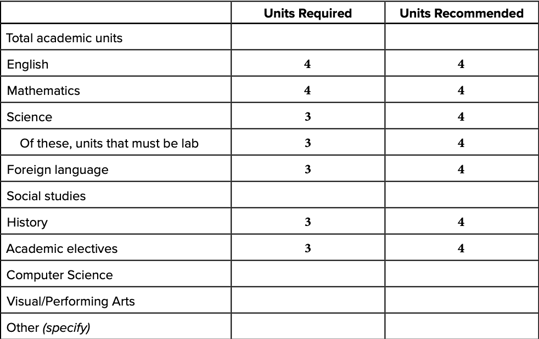 Relative importance of each of the following academic and nonacademic factors in your first-time, first-year, degree-seeking general (not including programs with specific criteria) admission decisions.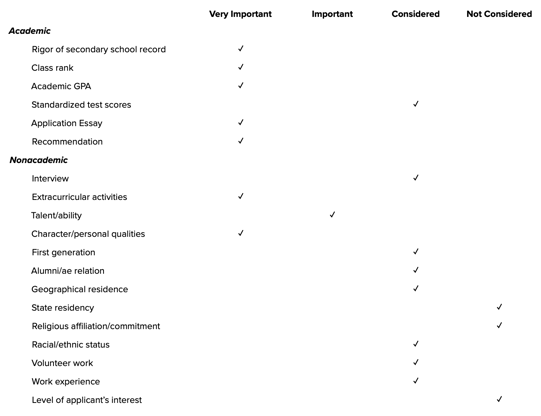 SAT and ACT Policies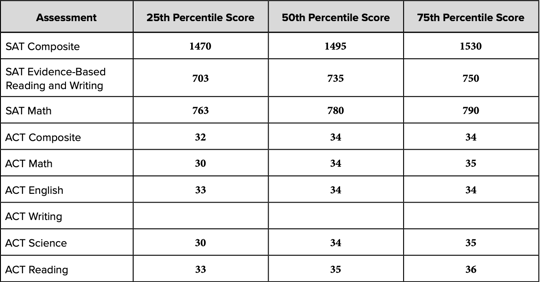 Academic Excellence: A Strong Foundation
Columbia University places significant emphasis on academic excellence. The admissions committee carefully reviews an applicant's high school academic record, including courses taken, grades achieved, and overall GPA. Columbia seeks students who have challenged themselves academically, exhibited intellectual curiosity, and excelled in their coursework. Rigorous classes, advanced placement courses, and a strong academic foundation are all factors that can positively impact an applicant's candidacy.
Standardized Test Scores: Demonstrating Aptitude
Standardized test scores play a crucial role in the evaluation process at Columbia University. The university accepts both the SAT and ACT and considers scores from these tests to gauge an applicant's aptitude and academic potential. While Columbia takes a holistic approach to admissions, strong performance in standardized tests can enhance an applicant's profile.
Extracurricular Involvement: Showcasing Passion and Leadership
Columbia University values students who actively engage in extracurricular activities and demonstrate leadership potential. Involvement in clubs, sports, community service, research, and other pursuits reveals an applicant's diverse interests, passions, and ability to make a positive impact. Columbia seeks individuals who have shown dedication, initiative, and a commitment to their communities.
Personal Statement: Reflecting Personal Identity and Aspirations
The personal statement provides applicants with an opportunity to express their unique stories, experiences, and aspirations. Columbia University considers the personal statement a vital component of the application. Through the personal statement, applicants can convey their intellectual interests, personal growth, and their alignment with Columbia's values and mission. Crafting a compelling and authentic personal statement can significantly strengthen an applicant's candidacy.
Supplemental Essays in Columbia University's Admissions Process
In the competitive admissions process of Columbia University, the supplemental essays serve as an invaluable opportunity for applicants to distinguish themselves and showcase their fit with the university's community. The Columbia-specific questions are designed to allow applicants to express their intellectual passions, academic goals, community involvement, and personal perspective.
For the 2023-2024 admissions cycle, Columbia's supplemental essays are broken down into five prompts:
List Questions
Columbia starts with a series of list questions that ask applicants to:
List a few words or phrases that describe your ideal college community.
List the titles of the required readings from academic courses that you enjoyed most during secondary/high school.
List the titles of the books, essays, poetry, short stories or plays you read outside of academic courses that you enjoyed most during secondary/high school.
List the titles of the print or digital publications, websites, journals, podcasts or other content with which you regularly engage.
Each of these list-style questions limits the response to 150 words and seeks to gain insight into the applicant's intellectual pursuits, cultural engagement, and community ideals.
Essay Questions
After the list questions, Columbia has two more traditional essay prompts:
Columbia students take an active role in improving their community, whether in their residence hall, classes or throughout New York City. Their actions, small or large, work to positively impact the lives of others. Share an example from a recent event when a leader or an average person faced a significant challenge. (200-250 words)

Why are you interested in attending Columbia University? (200-250 words)
The first essay prompt is focused on leadership and problem-solving, offering applicants the opportunity to demonstrate their ability to make a positive impact on their communities.
The second essay is a classic "Why Us" question that asks applicants to specify why they are drawn to Columbia University. This essay should articulate the unique aspects of Columbia that resonate with the applicant's academic and personal goals.
The Columbia supplemental essays give students the chance to showcase their personality, interests, and commitment to their education beyond what is captured in their grades and test scores. Applicants should approach these essays with authenticity and thoughtfulness, bearing in mind the intellectual curiosity, commitment to community, and passion for learning that the university values. As always, students should carefully proofread their essays and ensure they are a true reflection of their personal journey and ambitions.
Sample Essays
Columbia University makes slight changes in their essay prompts from year to year. Here are some examples that have worked in previous years.
Prompt: A hallmark of the Columbia experience is being able to learn and live in a community with a wide range of perspectives. How do you or would you learn from and contribute to diverse, collaborative communities?
Answer:
2,789. That is the total population of Imagined, the small, remote town I grew up in. It is a town that I have a love-hate relationship with. I love the sense of community it fosters and the beautiful views surrounding it. I also hate how small it is and how closed-minded its inhabitants can be.

Like most of Imagined's residents, I have never really lived outside of our town, but I like to think that I have traveled through the numerous books I spend my days reading. It is those books that introduced me to people who practice different religions, who look different from me, and who have points of view that are very different from mine. Even though I may not agree with everything I have read, it has given me a chance to question my belief systems and make informed decisions.

I hope that by attending Columbia, which is located at the heart of one of the most diverse cities in the world, I will be exposed to even more perspectives so that I can learn more about the human experience and relate with others better.

Prompt: Please tell us what from your current and past experiences (either academic or personal) attracts you specifically to the areas of study that you noted in the application.
Answer:
"Style is a way to say who you are without having to speak." Those are Rachel Zoe's words, and I wholeheartedly believe them. Growing up, one of my favorite parts of the day was the night before school, when I would spend 20 to 30 minutes picking out the perfect outfit to wear the next day.

When it came time for me to go to high school, my parents decided that I would get a better education from a private school that had a dress code. All students were required to wear clean-cut khakis and a white polo shirt. I had to say goodbye to my matching sets, graphic t-shirts, and jean jackets.
I remember feeling like I wouldn't feel like myself if I couldn't show my sense of style. So, I spent the summer running through hours of YouTube videos to learn how to perfect braids and fancy updos. I learned how to layer necklaces and experimented with different accessories.

By the time I started high school in the fall, I had learned how to style my new uniform, which gave me the confidence to put my best foot forward at my new school.
Prompt: Why are you interested in attending Columbia University? We encourage you to consider the aspect(s) that you find unique and compelling about Columbia.
Answer:
Two years ago, my mother and I toured thirteen universities across the country. Of all the schools I visited, Columbia quickly stood out. We had already put the school on our list because of its stellar academic programs but being on campus convinced me that Columbia is the right university for me.

During the tour, I spoke to several students who gushed about the diversity of the student body, the excellent professors and advisors, and the eye-opening educational experience the Core Curriculum provides. My mother went to Columbia, and she found it amazing that even though the school has evolved, its core values remain the same.

The experiences she and the other students described make me dream of having my own Lit Hum discussion sessions and participating in the many enriching clubs on campus, such as the Columbia Model United Nations team.

Being at Columbia would also allow me to take advantage of everything New York offers. I would get to explore my various academic and personal interests in an international and open-minded environment.

Some say that Columbia is the greatest college at the greatest university in the greatest city in the world. I suspect they might be right.
Letters of Recommendation: Insights from Others
Letters of recommendation offer an external perspective on an applicant's character, abilities, and potential for success. Columbia University typically requires two letters of recommendation from teachers or mentors who can provide valuable insights into an applicant's academic achievements, personal qualities, and potential contributions to the Columbia community. Selecting recommenders who know the applicant well and can provide specific examples is crucial.
Demonstrated Interest: Engaging with Columbia
While Columbia University does not explicitly track demonstrated interest, showing genuine enthusiasm for the university can positively impact an applicant's candidacy. Attending information sessions, visiting campus (when possible), connecting with current students or alumni, and engaging with Columbia's resources can demonstrate a sincere interest in becoming part of the Columbia community.
Columbia University Application Deadlines
Keeping track of the application deadlines is a critical step in applying to Columbia University. Columbia offers two admissions plans: Early Decision and Regular Decision. Each of these options has distinct deadlines, giving prospective students the flexibility to choose the path that best aligns with their college application strategy.
Early Decision
The Early Decision (ED) plan is for students who have done extensive college research and are certain that Columbia is their first choice. Under this plan, students must submit their application by November 1. ED applicants commit to enroll at Columbia if admitted and must withdraw all other applications. It's a binding agreement and should only be chosen by students ready to commit to Columbia University.
Early Decision applicants receive their admissions decisions in mid-December. Since this is a binding program, admitted students are expected to secure their place in the incoming class soon after receiving their admission offer.
Regular Decision
The Regular Decision (RD) deadline at Columbia is January 1. This option gives students additional time to finalize their application, supplementing it with their accomplishments and experiences from the first half of their senior year. Admissions decisions for Regular Decision applicants are typically released in late March.
Admitted Regular Decision applicants, like their Early Decision counterparts, have until May 1 to accept or decline their offer. This common reply date ensures that all admitted students have equal opportunity to consider their options and make a thoughtful choice.
Financial Aid Application
For consideration of financial aid, students should complete and submit their financial aid applications by the following deadlines:
For Early Decision applicants, the deadline is November 15.
For Regular Decision applicants, the deadline is February 15.
Columbia University is committed to making its education affordable and accessible for all admitted students and follows a need-blind admission policy for U.S. citizens, permanent residents, and eligible non-citizens, which means your ability to pay doesn't affect your admission decision.
Remember, Columbia University's deadlines are firm, and applications must be submitted by 11:59 PM of the applicant's local time zone on the respective deadline dates. Late applications are generally not considered, so careful planning and time management are essential for timely submission.
Frequently Asked Questions
What is the acceptance rate at Columbia University?

Columbia University's acceptance rate is typically around 5-6%, making it a highly competitive institution to gain admission to.
Does Columbia University require interviews for all applicants?

No, Columbia University does not offer interviews to all applicants. Interviews are typically conducted on a selective basis for applicants who are considered strong candidates.
Are there any specific GPA requirements for Columbia University?

While there are no strict GPA cutoffs, admitted students at Columbia University often have outstanding academic records, typically with GPAs above 4.0.
Conclusion
Securing admission to Columbia University requires a combination of academic excellence, extracurricular involvement, and a genuine passion for intellectual growth. By understanding the various components of the Columbia University admissions profile and showcasing your unique strengths, you can increase your chances of joining the esteemed Columbia community. So, dream big, work diligently, and let your aspirations guide you toward unlocking the doors to intellectual discovery at Columbia University.