Admit hero's
Carnegie Mellon University Admissions Profile
Keep reading to learn more about CMU's admissions process, including extracurriculars, personal essays, and interviews. Maximize your application to CMU and schedule a free consultation with one of our counselors!
Introduction
Welcome to our comprehensive guide on the Carnegie Mellon University admissions profile. If you're considering applying to Carnegie Mellon University (CMU), this article will provide you with all the essential information you need to know. From admission requirements to the application process, scholarships, and campus life, we've got you covered. Let's dive in and explore what makes CMU such a prestigious institution.
Carnegie Mellon University Admissions Profile
Carnegie Mellon University is a globally renowned private research university located in Pittsburgh, Pennsylvania. Founded in 1900, CMU has established itself as a leader in education, innovation, and interdisciplinary research. With a focus on combining technology, arts, and humanities, CMU offers a unique educational experience for students seeking to make an impact in their chosen fields.
Admissions Requirements
To gain admission to Carnegie Mellon University, applicants must meet certain requirements. Here are the key factors considered during the admissions process:
Academic Excellence: CMU seeks students who have demonstrated exceptional academic performance. This includes a rigorous high school curriculum, strong grades, and impressive standardized test scores (SAT or ACT).

Transcripts and Coursework: Admissions officers carefully review applicants' high school transcripts to assess their course selection, performance, and academic rigor. Taking advanced courses, such as Advanced Placement (AP) or International Baccalaureate (IB), can strengthen your application.

Standardized Test Scores: While CMU takes a holistic approach to admissions, strong SAT or ACT scores can enhance your application. It's recommended that applicants aim for scores within or above the middle 50% range of admitted students.

Extracurricular Involvement: CMU values students who have demonstrated a commitment to extracurricular activities, leadership roles, community service, and artistic pursuits. Highlight your passions and achievements outside of the classroom to showcase your well-roundedness.
The Application Process
Applying to Carnegie Mellon University involves several steps, and it's important to stay organized throughout the process. Let's walk through each stage of the application process:
1. Common Application or Coalition Application
CMU accepts both the Common Application and the Coalition Application. Choose the application platform that you are most comfortable with and complete the application form accurately, including personal information, academic history, and extracurricular involvement.
2. Supplemental Essays
As part of the application process, Carnegie Mellon University (CMU) requires applicants to complete supplemental essays. These essays provide an opportunity for applicants to showcase their unique qualities, experiences, and aspirations beyond what is captured in their general application. Let's explore the supplemental essays required by CMU:
Essay Prompt 1: Most students choose their intended major or area of study based on a passion or inspiration that developed over time. What inspired you to choose this area of study? (maximum 300 words)
This prompt invites applicants to reflect on what inspired them to choose their intended major or area of study. Applicants should share their personal journey, highlighting experiences, influences, or moments that sparked their passion and interest in their chosen field. It is important to convey genuine enthusiasm and demonstrate a strong connection between their past experiences and future goals.
Essay Prompt 2: At Carnegie Mellon University, our difference is what defines us. How have you embraced this notion in your life? (maximum 300 words)
Through this prompt, CMU seeks to understand how applicants have embraced and celebrated differences in their lives. Applicants should provide specific examples of how they have demonstrated an appreciation for diversity, inclusion, and individuality. It could involve instances where they have actively engaged with different perspectives, cultures, or communities. It is important to highlight personal growth, empathy, and their potential contributions to the CMU community.
Essay Prompt 3 (Optional): Is there anything else you would like to share with us? (maximum 300 words)
This optional prompt provides applicants with an opportunity to share additional information they believe is important for the admissions committee to know. It could be an explanation of extenuating circumstances, unique achievements, or experiences not captured elsewhere in the application. Applicants should use this essay wisely to supplement their application and provide valuable insights into their background or accomplishments.
Applicants should approach these supplemental essays with sincerity, thoughtfulness, and clarity. It is important to utilize the word limit effectively and provide specific examples that highlight the applicant's unique experiences, perspectives, and fit with CMU's academic community. By doing so, applicants can strengthen their application and demonstrate their potential contributions to the innovative and interdisciplinary environment at Carnegie Mellon University.
3. Letters of Recommendation
CMU typically requires two to three letters of recommendation from teachers, counselors, or other individuals who can speak to your academic abilities, character, and potential for success at the university. Choose recommenders who know you well and can provide detailed insights about your strengths and achievements.
4. Standardized Test Scores
Official SAT or ACT scores must be sent directly to CMU from the testing agency. CMU operates under a test-optional policy, meaning that submitting test scores is not required for most undergraduate applicants. However, strong scores can still be beneficial for certain programs and scholarship considerations.
5. Artistic Portfolio (if applicable)
If you are applying to an artistic program or major, such as fine arts, design, or music, you may be required to submit an artistic portfolio showcasing your talents and creative work. Follow the specific guidelines provided by CMU for portfolio submission.
6. Application Fee or Fee Waiver
There is an application fee to submit your application to CMU. However, fee waivers are available for eligible students who demonstrate financial need. Check the CMU admissions website for specific details on fee waivers and how to apply for one.
7. Deadlines
When applying to Carnegie Mellon University (CMU), it is crucial to keep track of the specific application deadlines. CMU offers various application plans, including Early Decision, Early Decision II, Regular Decision, and Transfer Admission. Understanding these deadlines will help prospective students plan their application timeline effectively.
Early Decision (ED)
CMU's Early Decision plan is binding, which means that if admitted, students are committed to enrolling at CMU. The Early Decision deadline is typically in early November, and applicants will receive their admission decision by mid-December. Early Decision is an option for students who have identified CMU as their top-choice institution and are ready to commit to attending if admitted.
Early Decision II (ED II)
CMU also offers an Early Decision II plan, providing applicants with an opportunity to apply later in the admissions cycle. The Early Decision II deadline is typically in early January, and applicants will receive their admission decision by mid-February. This plan is suitable for students who have gained more clarity about their college preferences later in the application process.
Regular Decision (RD)
The Regular Decision deadline for CMU is typically in early January. By applying Regular Decision, students have more time to prepare their application materials and explore their options before making a final decision. Admission decisions for Regular Decision applicants are usually released by late March or early April.
Transfer Admission
For students seeking to transfer to CMU, the application deadline is typically in early March. Transfer students are required to submit their applications and supporting materials by this deadline to be considered for admission.
It's important to note that CMU has a holistic admissions process, which means that they consider various factors beyond academic achievements, such as extracurricular involvement, leadership experiences, essays, and letters of recommendation. Prospective students should ensure that all application materials are submitted by the specified deadlines to ensure a complete and timely application.
Scholarships and Financial Aid
Carnegie Mellon University is committed to making education accessible to students from diverse backgrounds. The university offers various scholarships and financial aid options to help make education affordable. Here are a few examples:
Merit Scholarships: CMU awards a range of merit-based scholarships to exceptional incoming students. These scholarships are based on academic achievements, leadership qualities, artistic talent, or other outstanding accomplishments. Some scholarships are automatically considered during the admissions process, while others require separate applications.

Need-Based Financial Aid: CMU provides need-based financial aid to eligible students. By submitting the Free Application for Federal Student Aid (FAFSA) and the CSS Profile, students can be considered for grants, loans, and work-study programs.

Specialized Scholarships: CMU offers specialized scholarships for students pursuing specific fields of study, such as computer science, engineering, performing arts, and more. These scholarships often cover a significant portion of tuition costs and provide additional support for academic and personal development.
Campus Life and Resources
Carnegie Mellon University offers a vibrant campus life with a wide range of resources and opportunities for students to explore. Here are some highlights:
Academic Excellence: CMU is renowned for its academic rigor and innovative programs. With seven colleges and schools offering various disciplines, students have the opportunity to engage in interdisciplinary learning and research.

Student Organizations: CMU boasts a diverse array of student organizations, clubs, and extracurricular activities. Whether you're interested in academic clubs, performing arts groups, community service initiatives, or entrepreneurship, you'll find a community that aligns with your interests.

Research Opportunities: CMU is a hub for cutting-edge research and innovation. As a student, you'll have access to research opportunities and the chance to collaborate with faculty members on groundbreaking projects in your field of study.

Internships and Career Services: CMU's career center offers guidance and support for internships, co-op programs, and job placements. The university's strong industry connections provide valuable networking opportunities and pathways to successful careers.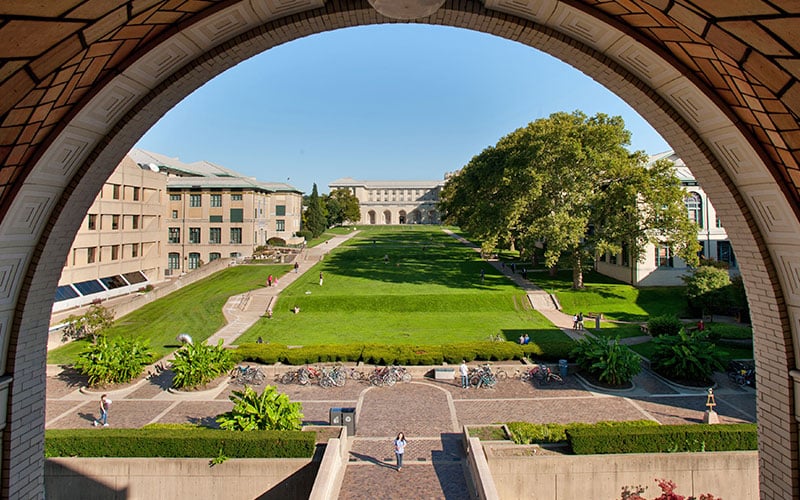 Frequently Asked Questions
What is the acceptance rate at CMU?

The acceptance rate for CMU varies depending on the program and degree level. Overall, it is highly competitive, with an average acceptance rate of around 15-20%.
Are interviews required for admission to CMU?

Interviews are not typically required for undergraduate applicants to CMU. However, some programs or scholarships may request interviews as part of their specific requirements.
What majors and programs are offered at CMU?

CMU offers a wide range of undergraduate and graduate programs across various disciplines, including but not limited to computer science, engineering, arts, humanities, business, design, and social sciences.
Conclusion
Carnegie Mellon University offers a transformative educational experience and a wealth of opportunities for students to unlock their potential. By understanding the CMU admissions profile, you can navigate the application process with confidence. Best of luck as you embark on this exciting journey towards a future filled with innovation and success!